SCCASA offers help with Open Arms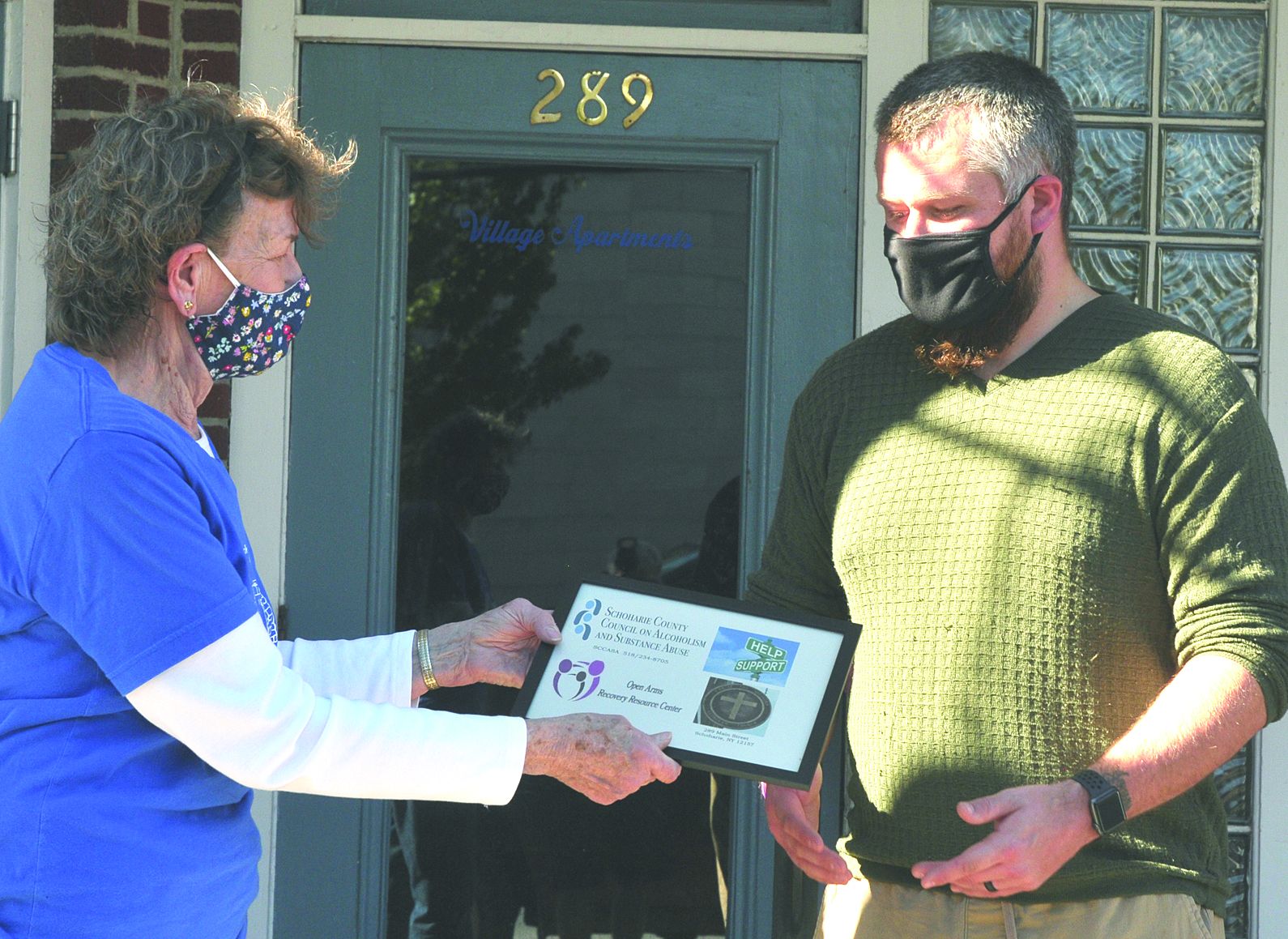 A newly-filled storefront on Main Street, Schoharie, is dedicated to helping people.
Joined by friends, members of the Schoharie County Council on Alcoholism and Substance Abuse cut the ribbon on their Open Arms Recovery Resource Center at 289 Main Street on Thursday afternoon.
Open Arms is for people suffering from substance abuse or who are in recovery, and also for families of those with substance abuse problems.
Services are free and there's no need for appointments and no paperwork to fill out, according to Justin Hamm, SCCASA executive director.
Previously, people had to call the SCCASA office on Mineral Springs Road in Cobleskill and make an appointment.
Now, they can just walk into the Schoharie location.
Christ the Shepherd Lutheran Church is right next door and owns the Open Arms site. Open Arms is using the site rent-free.
"It's an opportunity for people looking for information about overcoming addiction," Mr. Hamm said.
The new site is also on the Schoharie County Public Transportation line and is close to other offices offering assistance.
Open Arms help includes explaining recovery methods, starting the process for an inpatient facility if necessary, developing plans, attending court as support, attending doctor's appointments and supporting families with information about community agencies and recovery services.
Attractively furnished, the large room includes comfortable chairs and couches and places for private conversation. Coffee, water and food will be available.
Assemblyman Chris Tague cut the ribbon on Thursday, noting that people are afraid to talk about opioids and addiction.
"Since COVID, it's worse," Assemblyman Tague said. "Someone might have lost a job, and go into depression. . ."
He praised the church for offering the free space, adding, "that's what makes our communities great."
Schoharie Mayor Larry Caza thanked SCCASA for bringing Open Arms to his village.
"It shows what's important to us is each other," Mayor Caza said.
Mr. Hamm thanked his staff for making Open Arms come together and ensuring that people have an easier way to get help.
"It's not about us. It's about the people who need help," Mr. Hamm said. "We're in the business of saving lives."
Georgia VanDyke, representing the Schoharie County Chamber of Commerce attended the ribbon-cutting, as did several county officials.
Linda Alescio of the Schoharie Promotional Association, which promotes downtown Schoharie, presented Mr. Hamm with a welcoming certificate.
Open Arms is open on Thursdays, 8am-4pm. Mr. Hamm hopes the facility can be open a second day if the church approves.