SSCS ag teacher in running for nat'l award
| | |
| --- | --- |
| 3/3/2021 | By Patsy Nicosia |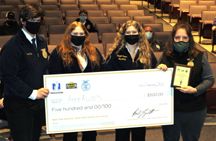 A longtime Sharon Springs Central School ag teacher and FFA advisor has been nominated for a national award.
Anne Allen, at SSCS since 1996, was surprised with a Zoom presentation Tuesday letting her know she'd been nominated for the Golden Owl Award.
Presented by Nationwide Insurance, New York Farm Bureau, and New York FFA, the award honors outstanding New York ag educators for their work; Ms. Allen is one of 11 finalists for the award.
According to NY FFA rep Derek Hill, from August 1 through December 31, 2020, FFA gathered 163 nominations for 47 different teachers from students, faulty, and the community—and then began narrowing them down.
Hannah-Rose Foote from Richmondville, state FFA secretary, said the award began in 2018-2019, recognizing ag teachers from just two states and has grown to include seven with future expansion planned.
Also on hand for the Zoom surprise was State Ag Commissioner Richard Ball from Schoharie, who spoke to the work of teachers like Ms. Allen.
"This year more than ever, it's heartening to see their dedication," he said.
Nationwide agent Michael Spaulding also stressed ag education's importance in guaranteeing a future for agriculture.
Ms. Allen is the only ag teacher at SSCS; students nominating her thanked her for always putting them first, for always being there, and "for always helping solve our problems and making sure we are okay."
SSCS Principal Tom Yorke called the recognition well-deserved and pointed to Ms. Allen's impact on the lives of hundreds of students in her 25 years there.
"I'm beyond honored to have such an outstanding educator at our school," he said.
"Whether it's organizing and supervising trips to Camp O, coaching students to compete at local and state conventions, running Envirothon, putting together a petting zoo or operating fundraisers, your students-first approach to teaching and leading is truly a gift…"
As a Golden Owl nominee, Ms. Allen was presented with a plaque and a $500 check.
One honoree from each of the seven participating states will be chosen a state grand prize winner.
Each grand prize winner will receive the Golden Owl Award trophy and a $3,000 Nationwide-funded scholarship to support continued education efforts.
The New York grand prize winner will be announced during the virtual New York FFA State Convention in May.