Scout honored for saving mom's life
| | |
| --- | --- |
| 1/9/2008 | By Patsy Nicosia |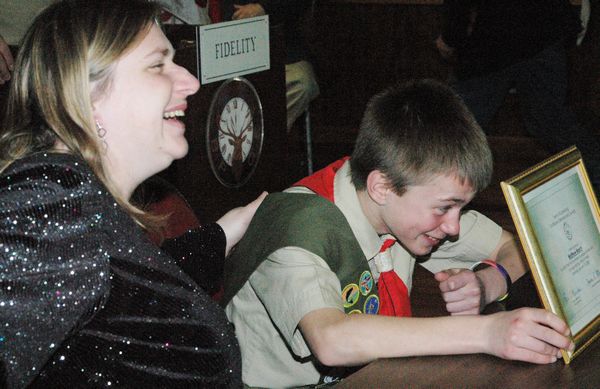 It's not easy being The Hero.
First, you're so busy meeting-and-greeting that you can't get to the sodas.
Then there's all the photos—Do you dare ask the 'camera lady' to pass you a Coke?—and then remembering to breathe when the TV guy starts asking you questions…
But seventh-grader Matthew March took it all in stride Monday when he was honored with a national certificate for "meritorious actions" by the Boy Scouts of America for saving his mom, Melanie's, life a little more than a year ago.
Matthew, a member of Esperance Troop 105, is one of just three Otschodela Council Scouts to receive the award in at least 17 years.
It was on December 13, 2006, that Mathew got home from school to find his mom passed out on the floor from what turned out to be a bad reaction to medications prescribed for a recent stroke.
Matthew not only got her cleaned up, but called 911 for help and then stood by her side as she drifted in and out of consciousness.
He also got all of his mom's medications together for the rescue volunteers to take to the hospital, emailed his dad—the best way to reach him—to let him know what was going on—and watched his four-year-old brother till he got home.
Once Mrs. March was at the hospital, doctors determined she was dehydrated; she was released in a day or so.
Matthew was honored with the Troop's Pop Secord Award last year for using his Scout first aid skills so well and that made him eligible for the national award.
Matthew admitted Monday he was nervous by all the attention; his next Scouting goal is to become an Eagle Scout.
"I'm very proud of him," said Mrs. March. "It's brought all of our family closer together. It's great to see so many people here tonight to honor him."
Also honored Monday for his work at the Esperance Elks Lodge, sponsors of Troop 105, was Scout Jonathan Diamond.
Jonathan served as "handyman" for the lodge, said Elk Chuck Johnson, helping out with everything from roofing to repairs. He also accompanies Mr. Johnson to the VA Hospital one a month to hand out snacks.