SUNY breaks ground on energy facility
| | |
| --- | --- |
| 10/21/2008 | By Patsy Nicosia |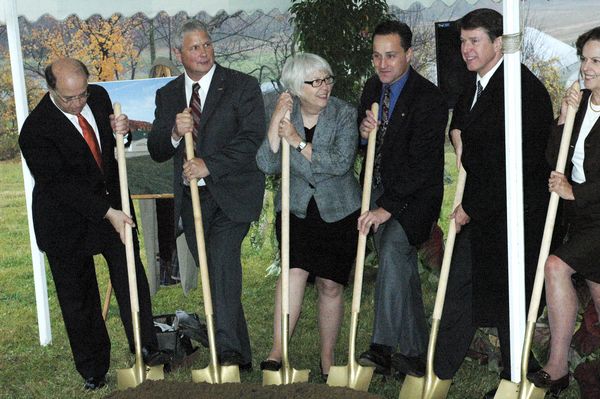 Even Doug Goodale admits there where times when it felt like an incredible lon-gshot.
But Thursday, when SUNY Cobleskill broke ground on its $8 million biowaste-to-energy project, an idea Dr. Goodale took from conception to reality, he was proud enough to burst.
What's being called the Center for Environmental Science and Technology is intended to be an $8 million facility for teaching, learning, and research in green technology.
Partner W2E, a small woman-owned firm out of Princeton, New Jersey, is donating a $500,0000 prototype gasification system for CEST, and nearly $4 million on US Department of Defense and Department of Energy research and development funds has also been earmarked toward it was well.
"It's very exciting," said Dr. Goodale, principal investigator and project manager Thursday as pouring rain made most conversation almost impossible.
Dr. Goodale first talked about his vision to convert biowaste like cow manure into energy by an innovative rotary kiln "syngas" converter two years ago.
Even then, as the college's federal appropriations coordinator, he'd been working on the project for two years.
The goal is to produce both electricity and liquid fuel from something local farmers have in abundance; the kiln will also be able to convert green waste and kitchen waste—in fact everything from paper and plastic to aluminum cans—into fuel and electricity.
What makes Cobleskill's project unique, Dr. Goodale said, is that the kiln, a prototype, burns at 1600 degrees F., something than means a much cleaner fuel—"syngas", than those created by digesters.
Speakers at the groundbreaking included Congressman Mike McNulty, who pointed out the DOD and DOE funding is "part of the 'dreaded earmarks'."
"I'm proud of every single dollar…Energy today is at the top of everyone's agenda. SUNY Cobleskill is doing something about it."
Beth Lamont, representing State Senator Jim Seward, said the project will maker the college more attractive to students and provide an economic boost to the local economy.
Assemblyman Pete Lopez told the crowd drenched by Thursday's rain—even under the tent—to consider it a symbol of how closely we're tied to Mother Nature.
"This is an adventure in sustainability and the wise use of natural resources," he added.
Michael McCaskey, dean of the college's School of Agriculture and Natural Resources, said the CEST facility will be "platinum" when it comes to energy-efficient design.
SUNY Cobleskill is already proposing a new BT degree in Environment, Energy, and Technology to take advantage of the opportunities the project will offer.
W2E CEO Renee Comly, whose business plans to locate lab and research facilities at CEST and will also participate in training students there, said there will be nothing like it in the country.
"This will be the renewable energy center for the United States," she said.
Students, Ms. Comly said, "will be trained on cutting-edge technology and will be out there in the global marketplace."
Dr. Goodale said he expects to begin seeking construction bids in January with the first phase of the project open by next September.
As a research facility, he said, one of their first tasks there will to prove what's so far been largely hypothesis and to "tweak" the process as needed.
Down the road, Dr. Goodale said, he hopes to take the project from prototype to producing enough energy to meet half of the college's needs.
Even further down the road, he sees it as something with on-farm potential.
"If it's as good as we think it is, this will really open up the alternative energy production business," Dr. Goodale added.
"I'm up on a cloud…To know the energy potential of this project, it's really incredible."
CEST is located east of the college's dairy complex; the SUNY system has also budgeted $3.73 million in state funds for construction costs.