Scarpulla starts living his dream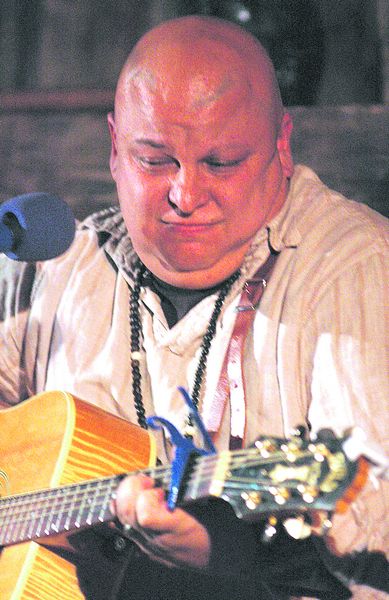 John Scarpulla lived his dream Friday night, and maybe just the beginning of it.
The Cobleskill guitarist, who's played professionally for about 15 years, celebrated the release of his first CD with a performance at Golding Park Café.
He, fellow guitarist Tom Wadsworth and upright-bass player Tom Wetmore played to a full house at the café, sponsored by Cobleskill Partnership Inc.
Mr. Scarpulla's CD, "Blue Ruin," is a mix of folk and blues that the musician describes as "kind of a reverse biography."
His actual musical biography didn't have a promising start. A Queens native, Mr. Scarpulla fooled around on guitar with friends in parks and parking lots before deciding on lessons––or at least one lesson.
"I hated it," he said. "And then I called in sick for the second lesson and got in a lot of trouble for that."
But Mr. Scarpulla liked song-writing, and as he continued that avenue, he realized a guitar could help.
After moving to Manhattan, he began playing professionally in the '90s, then stopped for a few years.
He and his wife, Katie Horn, moved to Cobleskill in the early 2000s, and in '04, Katherine Hawkins of the Schoharie County Theater Project encouraged him to play at one of the Project's venues.
That led to playing with Mr. Wadsworth.
"We'd jam a lot, and then Tom asked if I'd like to record," Mr. Scarpulla said.
They sorted through the "suitcase full of songs" Mr. Scarpulla had written, eventually selecting the 13 on "Blue Ruin."
"I'm a guy who wants to do things right away, but Tom told me to take our time and do it right," he said.
"It took about a year, and it was the right thing to do. I'm pretty happy with it. . .I think we got a pretty good thing going."
Mr. Wadsworth produced the album, and also had considerable influence on Mr. Scarpulla's playing.
When he came to Cobleskill, Mr. Scarpulla's music was more "city folk," he said.
"Tom is more traditional and brought a great element to it," Mr. Scarpulla said. "He gives the music a different energy."
They played with plenty of energy Friday night, and a performance like that––along with releasing a CD––is part of Mr. Scarpulla's dream.
Music as a career "has always been a dream that I've kind of put off. . .you have a job, a family, a house," he said.
Now, however, Mr. Scarpulla has a job as a receiving manager for a retailer, and work gives him free time nights and weekends to pursue music.
He's booking gigs around the area and marketing the CD aggressively over the internet.
Mr. Scarpulla is also looking to be the opening act for a big-name performer "who comes with a built-in audience.
"If you get some of those people––even just 25––to like what you're doing, that's great," Mr. Scarpulla said. "We're trying to spread the word and get media attention."
Getting attention was one purpose of the Café performance.
"The opportunity to support the careers of local musicians is one reason we formed the Café," said organizer Brian Kaiser.
"The support from the community has always been strong, and having local acts is one way to get people here who may not have been to the Café before."
And how far will local support and active marketing take Mr. Scarpulla?
"We're looking to be as successful as we can at whatever level we can," he said.
"Blue Ruin" is available at the Tri-County Arts Council in Cobleskill. On line, it's available at cdbaby.com and typing in John Scarpulla, and it also can be downloaded from Itunes.
Mr. Scarpulla's website is johnscarpullamusic.com.

* * *
The Golding Park Café series continues this week with Girlyman at 7:30. The Café is at Teen Town in Cobleskill.