Obama celebration at DAR Hall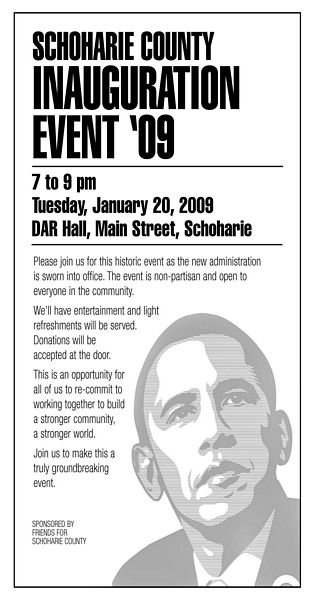 Most people in Schoharie County can't attend the inauguration of Barack Obama and Joe Biden on Tuesday, so Bob Smith is bringing the celebration here.
The former Wright supervisor has put together the "Schoharie County Inauguration Event '09" that will be at the DAR Hall on Main Street, Schoharie, 7-9 Tuesday night.
The Schoharie celebration is open to all, not just Democrats, and will include entertainment, a few speakers and light refreshments, Mr. Smith said.
The idea follows a proposal from the Presidential Inaugural Committee which invites the public to two websites: www.usaservice.org on Monday for a Martin Luther King Jr. Day observance; and the inauguration itself, with details and a schedule at www.pic2009.org.
Mr. Smith, however, sought a stronger link between the local and national scenes.
"I thought the election of Barack Obama was a uniquely historical event," he said. "I think it will nationally be the largest celebration taking place across the US."
Feeling that strongly about the new administration, Mr. Smith wanted to bring it home.
"We intended to provide people in our community with some event they could be involved in," he said.
"The younger generation can say, 'I remember when Dad went to that DAR Hall.' "
To plan the event, Mr. Smith said he pulled together 12 friends, and they organized the evening.
"There will be a lot of energy in that room. . .new energy, new people," he said.