BBQ a benefit for Sharon boy
| | |
| --- | --- |
| 1/14/2009 | By Patsy Nicosia |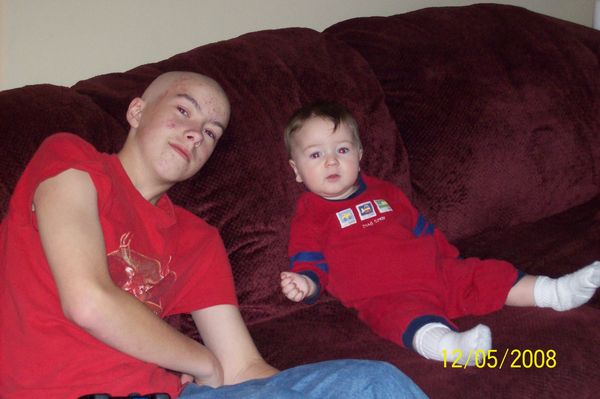 Chris Parker of Chester, Vermont has met his 13-year-old cousin-a-few-times-removed Tyler Wood just once; he's not even sure Tyler would remember him.
But when he learned the Sharon Springs boy had been hit with stage four cancer, he sprang into action--or maybe basted into action is a better way to put it.
Because in a joint effort between the communities of Chester, VT and Sharon Springs, NY Mr. Parker, owner of Curtis' All American Restaurant, will be bringing an old-fashioned chicken BBQ to the Sharon Springs Fire Department this Saturday, January 17, as a way to raise money for Tyler and his family.
"This is what I do: Barbecue," Mr. Parker said. "I'm bringing 14 cases--600 pieces of chicken...So if there's a blizzard, we're still coming.
"Cancer absolutely runs rampant in my family and when it hits a 13-year-old...I've probably only met Tyler once, but when it comes down to it, he's family. This is what I can do to help."
Plans call for opening the doors to the fire house at 3pm. Mr. Parker and local volunteers have already begun collecting donations from local merchants for a silent auction and raffle and those items will be on display at that time.
Because of the crowd expected, dinner—tangy, Southern-style BBQ chicken cooked over an outdoor pit with side dishes and desserts--will be served in two seatings, 5pm and 6:30.
There's a suggested $5 donation and take-outs will be available.
Though Mr. Parker's bringing the chicken, he's looking for help with the side dishes.
"We've already been promised cabbage for cole slaw and if the only other thing we get is potatoes, then we'll have baked potatoes," he said. "We also need desserts. If all we get is brownies, then we'll have brownies."
But based on the response so far, there will be more than chicken, potatoes, and brownies.
"I've lived in a small community all my life and I've never seen anything like this," Mr. Parker said. "When I called Pat Green at the school, all he said is 'What can I do?' And when people here heard about the response, they said they wanted to come along and help too so I have a carload.
Tyler's class, the SSCS eighth-grade, is also sponsoring a dance for him Friday night.
DJ Dan Tobin is donating his time and students are donating baked goods and beverages.
According to Mr. Parker, Tyler, who is the son of Kari Jo Woods and Jonathan Woods, was diagnosed with stage four adrencortical carcinoma—cancer of the adrenal gland—on October 10.
The rapidly-growing tumor quickly spread to his lungs and he's been going through regular chemotherapy cycles involving one-week stays at Albany Medical Center and two weeks of home treatment.
The three weeks are considered a 'cycle' and will continue until the tumor is small enough to be removed.
Meanwhile, he said, "Tyler has been attending school when able and trying to continue day-to-day life like any other 13-year-old....enjoying sports, Nascar, and family time."
All proceeds from the BBQ, auction, and raffle will go to Tyler's family to help them deal with their medical expenses, Mr. Parker said.
To make donations of any kind—gift certificates, food, money, time--contact Mr. Parker at his restaurant, (802) 875-6999, by fax, (802) 875-6998, his cell, (802) 380-8104, or email, cp_curtisbbq@hotmail.com.