Sharon working toward snowmobile deal
| | |
| --- | --- |
| 1/21/2009 | By Patsy Nicosia |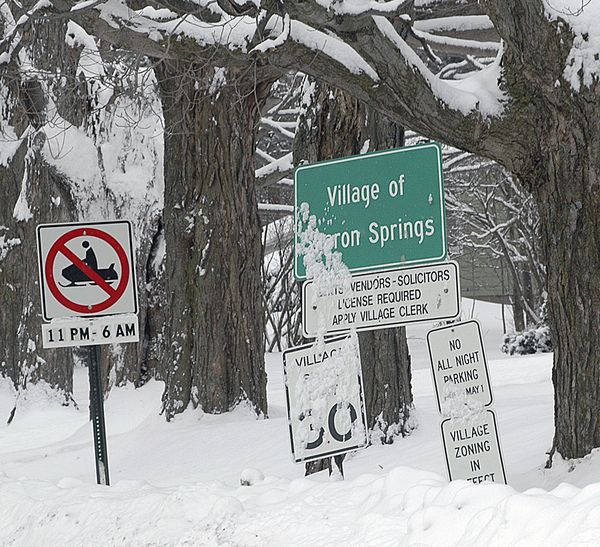 Snowmobilers and the businesses that depend on them are asking the Village of Sharon Springs to come up with a solution that works for everyone.
It's a controversy that rears its head every winter.
After Schoharie County Sheriff's Deputy Todd Ethington spent a Friday parked at the Fireside Restaurant and Bar warning sledders they weren't allowed in the village and in light of signs with the same message, those in favor of allowing what they consider a family tradition took their case to Mayor Omer Cousineau and trustees Thursday—along with 340 names on a petition.
Mayor Cousineau said the village didn't request the deputy—a claim the 15-20 snowmobilers disputed.
It's still unclear who put up the signs—snowmobilers with a slash through them—up on Chestnut and Beechwood Streets and on Routes 10 and 20—but Mayor Cousineau said he was told police can't enforce the existing law without them.
Dave Hall of the Fireside challenged the impression that the sledders are drunken revelers out running the streets in the middle of the night.
"I've never known of a single snowmobiler at our business after the [11pm] curfew," Mr. Hall said.
Most of he and Ann Kelly's customers stop in the middle of the day for gas and a hot meal, he added.
"It's a family tradition."
Of the 340 signatures gathered at The Fireside and Stewart's, Mr. Hall said, 197 of them are Sharon residents.
"That's a lot of local taxpayers," he said. "Doesn't that count for something against a handful of complaints?
"We'd like to see the village supporting us in these tough times—not undercutting us."
Or cutting them off at the knees, Ms. Kelly said.
"You all know how hard it is for businesses here in the wintertime," she said.
"When you go home and look in the mirror, ask yourself, 'Did I really do anything to help my businesses?' "
Two years ago in an effort to answer complaints about snowmobile noise and late-night traffic, the village enacted a law that effectively restricts sleds to accessing state trails from Chestnut Street and set an 11pm-6am curfew.
Then, after a snowmobiler crossed school property in the middle of the day while children were out at recess, Sharon Springs Central School—which also borders the state trails—last winter prohibited snowmobilers from all but the front lawn of the school.
The school's action prompted a meeting of SSCS, village, and snowmobile representatives, but after the village said it had no plans to change its law, that group was disbanded—and spring came.
Ms. Kelly said she turned away snowmobilers the previous Saturday, telling them they weren't allowed in the village, but Sunday, she said, they refused to leave.
"The sheriff told us they were banned in the village."
Trustee Margie Neary asked the crowd for a suggestion on how to get snowmobilers to their businesses.
"Back across the school again," said one—something that prompted SSCS Business Manager Tony DiPace to walk out of the meeting—only to return a few minutes later.
"There are a lot of mixed messages coming from the village," he said after he returned.
"Whether they [snowmobilers] can be here or not. Whether it's posted the right way. Writing the law so they can know what they can and can't do and enforcing it…
"I've been listening here tonight and I still don't know whether they can be here."
Ms. Neary said the village's goal has always been to keep people safe, sleds off the sidewalks, and the streets quiet at night—something they were trying to do when they wrote--the 2007 law.
Mr. DiPace said he didn't think school board members would have any objection to sitting down again in an effort to find alternate routes, an idea everyone on all sides of the table Thursday supported.
The group of Mr. Hall, Doug Bartlett, Ray Parsons, Darryl Hotaling, Mr. DiPace, and Mayor Cousineau, was to meet last night, Tuesday.
They also agreed that the slashed snowmobile signs would be amended to include the curfew hours; by the next day it was done.