Chamber: Together, we'll survive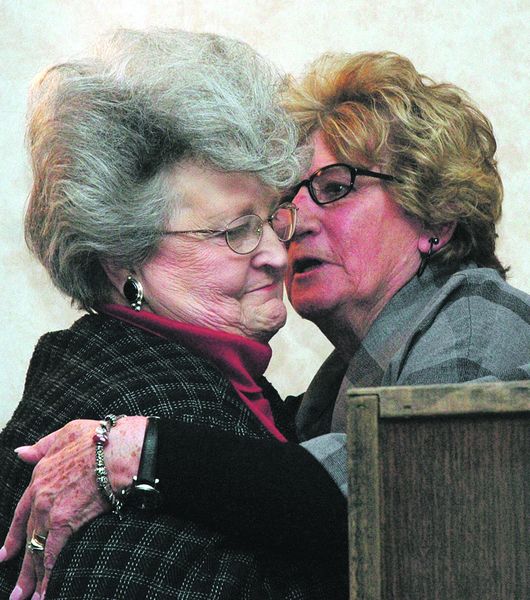 Optimism chased away the economic blues at the Schoharie County Chamber of Commerce's annual meeting Friday night.
Held at the Best Western in Cobleskill, the event drew about 160 who pledged themselves to work for better times ahead.
"Help each other, and we will get through these hard times," new President Anne Myers said in closing the meeting and repeating a theme that ran throughout.
Besides welcoming Dr. Myers as their new president, Chamber members also presented their annual awards and honors.
In taking over the presidency from Eric Stein, Dr. Myers stressed the Chamber's "Go Local" motto.
The county will be "a community of the future," she added, because it can produce what its residents need.
"We can show what a great community can do when it works together," Dr. Myers said. "We find something very special here. . .I happen to think this is the very best place to live."
Noting that he and former President Bush "are the two happiest men in America," Mr. Stein said he was confident Dr. Myers would lead the Chamber to good times.
"I'm very proud that my last act was to sweet talk Anne into taking the office," Mr. Stein said.
Executive Director Jodie Rutt described the Chamber's new program, BIG, for Business Intervention Group, designed to help new and existing businesses.
Not only a free mentoring service, BIG offers one-on-one counseling for any local business person who needs advice or help, Ms. Rutt said.
"We have many counselors with a variety of skills," she added.
Gail Breen of the Workforce Development Board presented the first award, Business Partner of the Year, to Kintz Plastic Inc.
Accepting the award, Mr. Kintz said he uses Workforce programs to find new employees and re-train existing ones, with the goal of improving the business.
"The object is to build a stronger workforce," Mr. Kintz said. "And we're bucking the trend. . .We're actually hiring now."
Mr. Stein presented the Business Person of the Year award to Mike Langan of Langan Funeral Homes in Schoharie and Central Bridge. The business purchased the Robert A. Guffin Funeral Home in Cobleskill last year.
"He's actually expanding his business in these dark and gloomy times," Mr. Stein said.
Echoing the theme of the night, Mr. Langan said his business succeeds because not only because of his family and team of employees, but because "local people stand behind us and support us."
Jim Gaw gave the Business Leader of the Year award to Jeff Relyea of All Season Construction. All Season has grown from a part-time weekend business to a major local construction firm.
"He didn't just build buildings. He built a business," Mr. Gaw said in presenting the award.
Mr. Relyea emphasized his employees' "strong work ethic and relentless energy.
"We built a team to keep the business up and running," Mr. Relyea said.
Ethel Benninger gave the Community Leader of the Year prize to Carol Coltrain, who recently retired as director of the county Office for the Aging.
Ms. Benninger, a previous OFA director, noted that Ms. Coltrain "played a major role in senior citizens' programs" for much of her life.
"I hired my friend and never regretted it," Ms. Benninger said.
"What makes a leader is a lover of persons," Ms. Coltrain responded, adding that she's had support from friends and the community for all she's done.
Assemblyman Pete Lopez presented state resolutions honoring the award recipients, and Earl Van Wormer, chairman of the Board of Supervisors, offered the same from county government.
"We commend you on your awards and on behalf of the Board of Supervisors, we salute you," Mr. Van Wormer said.