Protestors denounce DeFreitas trial
| | |
| --- | --- |
| 9/2/2009 | By David Avitabile |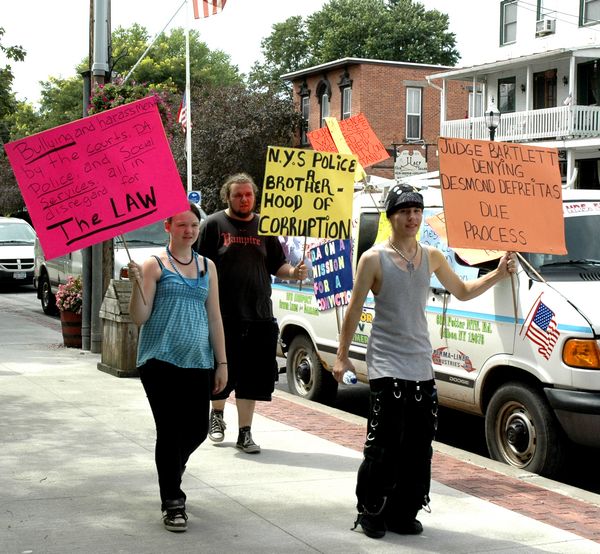 Family and supporters of a Conesville man accused of having sex with a 15-year-old girl rallied outside the Schoharie County courthouse as his trial began Monday.
Jury selection began Monday in the case against Desmond DeFreitas, 41, who has been charged with 10 felony counts and five misdemeanors for allegedly having sex with the girl and burglarizing seasonal homes in the fall of 2007.
Six jurors were selected Monday and jury selection continued Tuesday morning, said court officials.
Twice last week and on Monday, Mr. DeFreitas' wife, Connie DeFreitas, and some community supporters carried signs supporting Mr. DeFreitas and denouncing his treatment by the State Police and the court system.
"We just want the truth to come out," Ms. DeFreitas said Friday afternoon.
She said that Judge George Bartlett denied all motions and there have been questions about the existence of a diary that was used in a previous trial.
"Why deny all motions?" she asked in front of the county courthouse. "Is he going to have a fair shot here? No…
"We just want a fair trial. We just want justice."
Schoharie County District Attorney James Sacket and a State Police investigator who handled the case were not available for comment.
Mr. DeFreitas is charged with third-degree rape, a Class E felony; criminal sex act in the third-degree, a Class E felony; second-degree burglary, a Class C felony; endangering the welfare of a child, a Class A misdemeanor; and third-degree criminal solicitation, a Class E felony, according to court officials.
The problems began when her husband agreed to help out a homeless family of five and have them move into their multi-family home in Conesville, Ms. DeFreitas said.
The DeFreitas eventually kicked the family out in February 2008.
Since then, Mr. DeFreitas has been charged with burglary in Delaware County and sex charges in Greene County as well as the charges in Schoharie County, all on the strength of three witnesses from that family.
"No good deed goes unpunished," Ms. DeFreitas said.
The charges in Delaware County were dismissed, she said, but the case is ongoing in Greene County.
Ms. DeFreitas said the charges were started by Lawrence Rhodes, a county resident who was convicted in December on 39 charges and sentenced to 25 years in prison.
Rhodes was charged with criminal sale of marijuana and sexual contact with underage girls, said court officials.