Calvary breaks new ground
| | |
| --- | --- |
| 9/9/2009 | By Patsy Nicosia |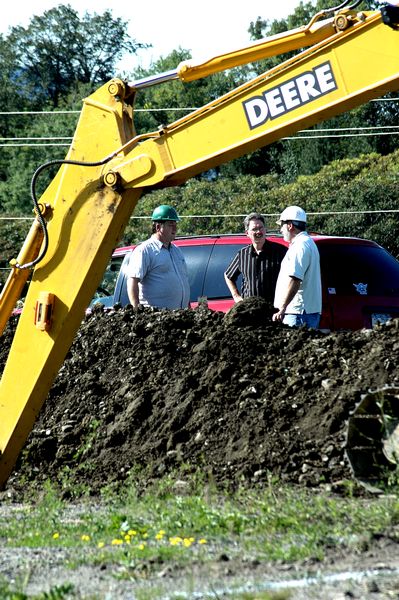 It was a long time in coming, but on Wednesday Calvary Assembly of God began construction on its new Mineral Springs Road facility.
"It's finally here," said Rev. Ray Richards. "It took longer than we expected, but in a way, that worked out for the best. It gave us more time to raise money. And now, here we are."
Calvary began seeking the necessary permits and approvals for its new multi-purpose facility in the spring of 2002.
A necessary part of the process—selling its flood-prone South Grand Street property to the Village of Cobleskill through a FEMA program—happened in August 2008 and with the issuing of a building permit two weeks ago, it was suddenly all systems go.
Site work on the 14,000 square-foot facility began last year and Wednesday, Wayne Pfohl from ZM Structures and Allan Decker, who designed the project, were on hand with Rev. Richards to watch the work begin.
Mr. Pfohl said putting up the shell for the building should take about three months, which would allow them to spend the winter completing work inside.
Rev. Richards said he's hopeful it will all be completed in time for Easter 2010 services.
The facility will house a 300-seat sanctuary, classrooms, a fellowship hall, resource center/conference room, and office space, as well as the Calvary Christian Counseling Center.
Down the road, plans calls call for adding a preschool and day care center.
There will be a dry hydrant for use by firefighters and a meeting space available for use by community groups.
One thing there won't be, joked Rev. Richards, is a basement.
The church's South Grand Street building was on the edge of the Cobleskill Creek—and regularly flooded.
That and the fact that the congregation has steadily been growing are behind the move to larger—dryer—quarters.
Between churches, the congregation was been meeting Sundays at 11am at St. Vincent de Paul Catholic Church, Washington Avenue, Cobleskill.
Temporary offices are located at the First Baptist Church Annex, 483 West Main Street, also in Cobleskill.
More information on the project is available online at www.cagcobleskill.org or by calling the church at 234-4182.
Donations to the project can be sent to Calvary Assembly of God, PO Box 145, Cobleskill, NY 12042.