Community Plaza picking up steam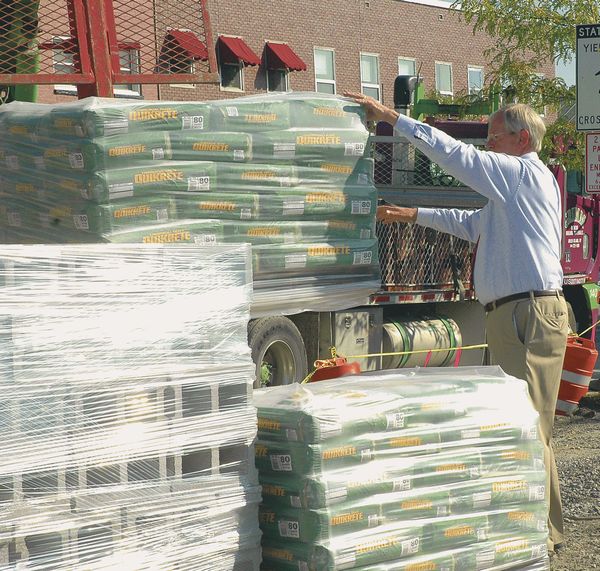 Construction is picking up steam on Cobleskill's Community Plaza.
Blocks and mortar arrived on Main Street at the corner of Division Street, the site of the Plaza intended to beautify downtown with benches, tables and landscaping.
Cobleskill Partnership Inc., the downtown improvement group, is spearheading the project with help from many others: SUNY Cobleskill, property owners Bill and Betsy Lancaster, Cobleskill Rotary Club, downtown businesses and more.
Crews took out trees, brush and crumbling planters in early summer, and prep work for the Plaza began in earnest in August.
Now the Plaza will begin to take shape.
SUNY Cobleskill Professor Steve Mullarkey's Plant Science students will lay the patio blocks and do the landscaping in the coming weeks, and work will continue to the target completion date of October 31.
Pleased with the progress, Cobleskill Partnership Vice President John Sagendorf pointed to contributions not only from SUNY Cobleskill, but from local contractor Mark Nadeau.
Mr. Nadeau, a village mayoral candidate, did much of the clearing and prep work on the Plaza.
"We would not be anywhere near this close without the work of Mark Nadeau," Mr. Sagendorf said. "He did all sorts of landscaping and excavation.
"We couldn't have done it without him. We wouldn't have known where to turn."
CPI budgeted $35,000 for the Plaza and is now aiming for more for ongoing Plaza maintenance, Mr. Sagendorf said.
"Money is coming along nicely, thanks to some very generous donors," he said.
Part of the fundraising is through the Rotary Club. Members are selling engraved bricks with the names of businesses or individuals as a fundraiser.
Bricks cost $100 each. More information is available from Rotarians, CPI members or the Studio for Art and Craft on Main Street.