Plaza a new look for Main Street, Cobleskill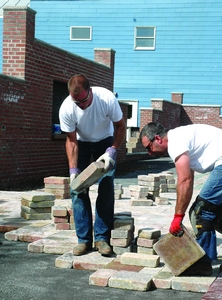 After Saturday, Cobleskill's Main Street will never look the same.
That's when officials will cut the ribbon on the Community Plaza, a new gathering place at the corner of Main and Division streets.
The ribbon-cutting will be at 2pm, and the public is invited.
The brick-walled plaza will have pedestal game tables, benches and a glass-enclosed marquee along the back wall.
Its intent is to improve downtown Cobleskill's appearance and act as a meeting place for pedestrians.
Cobleskill Partnership Inc., the downtown improvement group, spearheaded the project, and the Plaza fits in with CPI's façade improvement program. The facade effort started last summer and is continuing this year and shares a goal with the Plaza––improving Main Street.
"It's a transformational project," said CPI President Brian Kaiser, "and it's consistent with CPI's mission to change the face of Main Street."
Although CPI led the Plaza project, the group had plenty of help. Also joining in have been SUNY Cobleskill, the Village of Cobleskill, Cobleskill Rotary Club and Bill and Betsy Lancaster, who own the property where the Plaza sits.
The Plaza cost $55,000, including cash donations and donations of labor and materials.
"I think it's interesting to point out in this day and age of government subsidies that not a penny of government money went into this," Mr. Kaiser said.
He pointed to the college's role, especially Steve Mullarkey's Landscape Construction classes, who physically built the plaza.
"SUNY was a huge help," Mr. Kaiser said. "If we had to pay for engineers and crew, it would have cost $100,000, and we wouldn't have been able to afford it.
"We basically got a $100,000 project for $55,000."
Besides building the Plaza, the college also had a hand in its planning. Student Dana Hamm of Middleburgh designed it.
The Plaza won't be completely finished by Saturday; still to come will be the wrought iron fencing.
But the tables––with checkerboard inlays––benches, lighting, and marquee will be in place, along with the pavers, some which list donors to the project.
Senator Jim Seward and Assemblyman Pete Lopez are expected to attend, as is SUNY Chancellor Nancy Zimpher.
"This is consistent with the Chancellor's goal of empowering SUNYschools to make an impact on their communities," Mr. Kaiser said.
Most importantly, he wants the community to attend because that's who the Plaza is for.
"This has come together very nicely, and we want the community to enjoy Main Street's latest addition," Mr. Kaiser said.