The price is right at C-R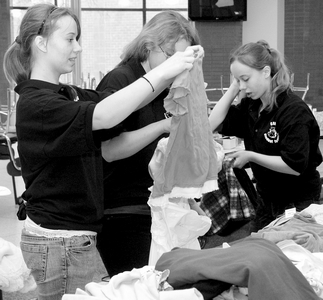 Everything from babies' bibs to ski boots was available at Cobleskill-Richmondville High School Saturday morning.
And the price was right, too.
The high school Student Council held its semi-annual Care to Share Store in the cafeteria, offering unwanted but useable items free for the taking.
The idea developed from teacher Marc Weiss's economics classes a couple of years ago. Residents brought it goods from 8am to 10am, and anyone could come and pick them up from 10am to noon.
Furniture, toys, clothing, videos, games and more were piled on cafeteria tables.
New this year was Second Time Around, a cooperative effort from the Cobleskill Recreation Commission to recycle sporting goods. Ski boots, cleats, baseball gloves and more were all available.
Mr. Weiss and fellow teacher Corey Gray are co-advisors for the Student Council, and they were pleased with the donations and the pick-up.
"It's nice to do something for the community," Mr. Gray said.
Mr. Weiss agreed but added that the Care to Share the Student Council has in the fall is generally larger.
"This one's a little light, but it's still good," Mr. Weiss said. "I think the one in the fall takes advantage of the spirit of the season."
The idea of Care to Share is to give families an opportunity to get rid of stuff they may not want and allow others to use it.
Also, Care to Share has a green angle: It keeps unwanted goods from going to a landfill.