Summer and Cobleskill's fishing's fine...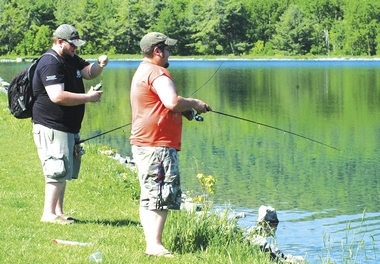 Cobleskill's Holding Pond is in top shape for the holiday weekend.
Members of the Coby Fish and Game Club stocked the pond with 239 tiger trout on Monday, getting it ready for anglers.
The pond, off Dow Street, is part of the village's reservoir system and is open to fishing.
The Coby Fish and Game Club has been stocking the pond for seven years. The club raises money by selling fishing buttons, and this year also received a $50 contribution from the West Fulton Fish and Game Club.
The Coby Club buys the trout from SUNY Cobleskill.
"We thank everyone for their support," said club member Joe Moore. "The West Fulton club really helped us out this year, and we thank them."
The Coby Club isn't the only one stocking the pond. Mr. Moore said the state Department of Environmental Conservation stocked 200 brown and 200 rainbow trout in April and added an undetermined number of fish later.
On Tuesday, Dave Johns and Zach Mahoney were fishing at the pond, and Mr. Johns hauled in one of DEC's rainbows.
Mr. Johns marked the rainbow because he's doing research on the pond's fish population.
Other anglers will likely be doing less scientific–-but just as enjoyable––fishing this weekend.
"It's open to everyone," Mr. Moore said. "Everyone's entitled to fish there.