Nadeau resigns on racism charges
| | |
| --- | --- |
| 7/21/2010 | By Patsy Nicosia |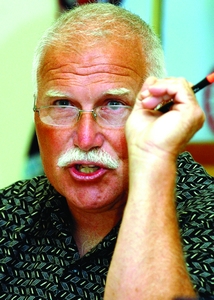 As rumored—if not believed until it happened—Cobleskill Mayor Mark Nadeau resigned last night before a crowd of 100 even as he refused to admit his guilt.
"This is not an admission of guilt. I'm doing this for my family. This community has hurt my family," said Mayor Nadeau as thundering applause for his turned to groans of disbelief.
"Just leave—and take your nameplate with you," called out one voice from the crowd.
"What arrogance!" said another.
Deputy Mayor Mark Galasso, expected to take over for Mr. Nadeau, asked for respect before saying the village would open the floor for unlimited comments.
The Mayor's resignation in the wake of audiotaped racial slurs had been rumored to happen at the end of a lengthly meeting, but following an hour-long closed executive session, it was all over in 20 minutes.
Mr. Nadeau, who didn't address whether he used the n-word when he campaigned on "Change," said when he approached Highway Department employee Don Dawson about taking some time off it was never because he was black.
"I did not single out any employee," he said. "I was concerned about…comp time. Donnie and I have worked down in the trenches together.
When I spoke…I forgot I was mayor. He did not.
"I believe it's time for this to come to an end. It's not good and it's destroying our community…I hereby resign as mayor of Cobleskill."
Some of the speakers who followed Mr. Nadeau picked up on that theme.
Sue Spivack said she was one of the few among her friends who was hoping Mr. Nadeau wouldn't resign so that he could take the lead in healing the community.
"I feel a little sad about you resigning," she said. "I was hoping you could lead the community to a better place as mayor and I hope your resolve stays strong to do that [from the outside.]
Lettie Merced said she believes prayer is the best way to move forward.
"We need to pray for the Mayor and for Mr. Murray because this can tear up our town," she said.
"We need to ask God where we go from here now that one step has been made."
As a newcomer to Cobleskill, Dawn Fiorillo said she's able to take things at face value, and though she knows of both Mr. Nadeau and Mr. Murray as hardworking men who want to move the community forward and want to do what's best, they can no longer lead.
The honorable thing—for both men to do—she said, is apologize and resign.
Ms. Fiorllo said she's also like to see Highway Superintendent Tom Fissell, who secretly recorded both Mr. Nadeau and Mr. Murray, held accountable for his actions and for "damaging the community for his own personal reasons"
"Mr. Fissell is not the hero in this case," she said.
Erynne Ansel-McCabe read a letter on behalf of her husband, Middleburgh Mayor Bill Ansel-McCabe, along with Richmondville Mayor Kevin Neary, Sharon Springs Mayor Omer Cousineau, Esperance Mayor Bill Miller, and Schoharie Mayor John Borst asking for at least "an honest anf forthright apology to the youth of our community for the damage this ugly incident has caused."
Mr. Nadeu said he's already begun steps to forward an anti-bias committee, which he has placed himself on, adding that the village is reaching outside the community for help moving past the incident.