Looking for good news? It's time for the Fair!
| | |
| --- | --- |
| 7/28/2010 | By Patsy Nicosia |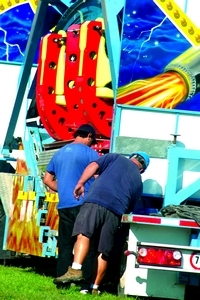 The 134th Sunshine Fair opens Friday for its second nine-day run.
Highlights will include a Michael Jackson Tribute, a Cavalcade of Horses, a record number of draft horse entries, and a series of lunchtime talks by SUNY Cobleskill experts in the Hall of Agriculture.
Set-up for the Fair, which runs through August 7, was already underway Monday—and the phones were ringing off the hook.
"We set an all-time record with the box seat auction and if that's any indication, it's going to be a great Fair," said President Doug Cater.
"We have a lot to offer and word has really gotten out. Going to nine days allowed us to step up to the next level. It was a risk, but it's paid off."
The Fair extended its run to cover two weekends in 2009.
In addition to allowing it to better weather traditional wet Fair…weather, the change also allowed directors to sign on the Powers Great American Midways and attract both bigger entertainment names and more exhibitors.
"Entries are up just about everywhere," said Director Lois Goblet.
"We really do try to have something for everyone and I think our numbers reflect that."
Gates open daily at 8am and discounted tickets are available at the Fair office and online at sunshinefair.org through Thursday.
After problems with forged tickets last year, this year's tickets will all be bar-coded and wristbands and ticket stubs will be required for readmission.
Some of the Fair highlights will include:
• Demonstrations by teams of oxen—a big hit at the '09 Fair, with one of the teams a pair of three-month-old calves.
• Demonstrations by the SUNY Cobleskill Woodsmen, a precursor to next spring's ESPN Woodsmen's Enclave there.
?For the first time in years, an open poultry show. There will also be ducklings on display.
• More than 70 beef animals and the first 4-H Supreme Show Award, given in honor of the late David Huse, a well-known local beef farmer who died in a tractor accident earlier this year.
• A record number of draft horse entries and between seven and 10 six-horse hitches.
"The barn is completely filled for the first time in years," Mr. Cater said.
"We even had to bring in portable stalls."
• The Cavalcade of Horses, featuring 10 different breds and an 18-piece orchestra at 4pm this Saturday in the new Superior Housing Equine Sports Arena.
• Special days including Community Support Day, Monday, when donations of two non-glass items to local food pantries will earn Fairgoers $2 off admission; and ARC Day Wednesday, when all consumers will be admitted free and Flame will perform.
• Chainsaw carver Brian Ruth, who's the reserve world champion carver.
• Sea Lion Splash, Powers Family Fun Park, and the Bear Mountain Wildlife Show.
• A Monster Truck Show featuring Big Foot, tractor pulls, four demolition derbies, and FMX Motocross.
• The Painted Pony Ranch Rodeo.
• And in the Party Tent Theater, Peter Noone and Herman's Hermits, Lou Christie, Fred Paris and the Satins, the Johnny Cash tribute for the fifth straight year, the Fair Idol Contest, Ernie Williams, a Tim McGraw tribute show, and the Joby Rogers Michael Jackson tribute show. (There will be an additional $7 charge for the Jackson tribute only.)
For more information, visit the Fair online.