Cobleskill likes Slottje, but won't ban fracking
| | |
| --- | --- |
| 7/3/2012 | By Patsy Nicosia |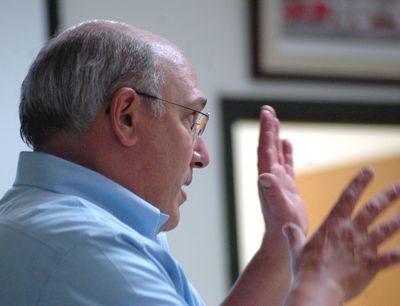 The Town of Cobleskill is confident it can use its zoning to manage hydrofracking and won't consider a moratorium.
That's according to Supervisor Tom Murray following a nearly 2 1/2 hour talk Friday by fracking foe, attorney David Slottje of the Community Environmental Defense Council.
Mr. Slottje stressed to the crowd of 30 that they have every legal right to prohibit or regulate things like hydrofracking.
And, he suggested they don't wait until the Department of Environmental Conservation begins issuing drilling permits to do something, whether it's a moratorium or "tweaking" their zoning.
"You have it [the right to home rule] right now," he said. "You don't need [State Senator Jim] Seward to clarify it for you."
Additionally, he said, waiting till after DEC establishes its fracking rules to try to regulate it exposes municipalities to potential liability.
Some in the industry have suggested that only DEC can regulate fracking, but Mr. Slottje said court decisions in Dryden and Middlefield said that's not the case.
"You can tell them where. You can't tell them how," he said.
It's the how that Cobleskill's interested in, Mr. Murray said.
"We know we have a solid Comprehensive Plan and good zoning," he said afterwards.
"What we need to do now is explore proactive measures and rational regulations...things like roads and land use planning.
"I think we can pick David's [Slottje] brain. But if we need outside legal help, the money is there."
Mr. Slottje works pro bono.
He's already looked at Cobleskill's zoning and agrees it's good.
But he also sees places, especially in definitions, that could be improved.
"There are some issues that you should talk about," he said, particularly in defining and tightening up permitted uses.
Another-and one that makes Cobleskill unique-is that it permits mining at Cobleskill Stone.
Mainstream legal opinion, Mr. Slottje said, is that there's no reason why the language in laws regulating gas and mineral mining should be interpreted differently.
But he also said he believes the courts would allow Cobleskill to make the distinction between the two.
Tom Wadsworth, one of those who pressed Mr. Murray to invite in Mr. Slottje, supports the idea of a moratorium.
Mr. Slottje said a moratorium doesn't mean a municipality has made up its mind on fracking, only that it wants time to gather more information.
"But you are supposed to do something with it," he cautioned. "Not just walk away..."
Mr. Wadsworth asked Mr. Slotttje what would be Cobleskill's "most prudent path?"
"That's not for me to say," Mr. Slottje answered.
Mr. Murray said it's not a moratorium.
"I think we got a good start here tonight," he said. "Now we can begin the dialogue. We wanted the facts and we got them."