Dumped pythons surprise Richmondville
| | |
| --- | --- |
| 7/10/2012 | By Patsy Nicosia |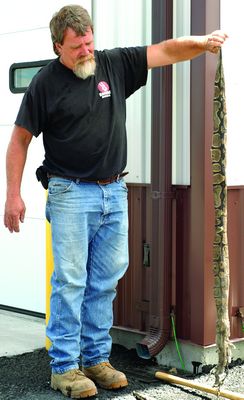 Crews working Brooker Hollow Road in Richmondville got the shock of a lifetime Monday when a four-foot long ball python poked its head out of the treads of a paver.
A few miles later, traveling Franzen Road, they got the second shock of a lifetime when a second python, this one nearly five feet, shot out of the treads.
Neither snake survived the encounter.
"There's no way these are native snakes," said Highway Superintendent Keith Althiser. "Someone must have released them. I just want people to be aware in case there are more of them out there."
An employee tentatively identified the snakes as ball pythons, popular as pets because of their docile nature, based on their markings.
Ball pythons aren't venomous. They're the smallest of the African pythons and named because of their tendency to curl into a ball when frightened.
Mr. Althiser said the paver was delivered straight to the Brooker Hollow site from a company shop Friday and left there over the weekend.
He suspects the snakes sought either shade or warmth in the paver treads and were caught asleep when the men arrived there Monday morning.
An attempt to free the first snake was unsuccessful, he said; the second snake fled to safety--but under the tracks of the paver.
"I'm not afraid of snakes, but can you imagine driving and seeing one of these guys?" Mr. Althiser added.
"I would have jumped out and left the paver going."