No bidders on historic Bull's Head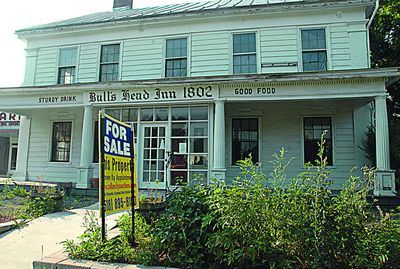 A Cobleskill landmark and favorite restaurant is in limbo.
And the current owner believes the Bull's Head Inn may never be a restaurant again--after more than two centuries.
An auction for the Bull's Head last Wednesday failed to draw any successful bidders, and the historic site on Park Place remains up for sale.
Although the auction by Collar City Auctions didn't find a buyer for the inn itself, an auction for the contents did find bidders leaving with small pieces of furniture, prints and other items.
Owner Tony Giammattei bought the Bull's Head in 2008, restored it and reopened that year. The inn was successful until Irene and Lee hit last summer, he said.
The inn was spared storm damage, he said, but "the flood killed the restaurant business."
Schoharie Valley customers who might have visited the Bull's Head in the past had to rebuild homes and businesses, leaving no spare money for dining out, Mr. Giammattei said.
Even before Irene and Lee, he added, the recession had cut business by 40 percent. Still, the Bull's Head was surviving, Mr. Giammattei said.
Proud of his 1802 building, Mr. Giammattei said the inn is in good shape, needing only a heating system.
There's a tavern in the cellar, the restaurant and kitchen on the main floor and larger dining rooms on the second floor.
Collar City has the inn listed at $169,000, Mr. Giammattei said.
Although Mr. Giammattei is the owner, he said he and Community Bank are partners in discussing offers.
Two low offers came during the auction, and another came over the weekend. Mr. Giammattei and Community Bank reps are discussing the offers.
Whoever buys it, however, may not reopen a restaurant, Mr. Giammattei said.
"I don't think Cobleskill has enough people to support a restaurant like this," he said. "And there's too much competition, too much fast food."
With several vacant buildings in downtown Cobleskill, the options for the Bull's Head may be few.
"It's very sad to see it close," Mr. Giammattei said. "Maybe it could be offices. I hope it's not empty very long."