Sunshine Fair comes back from flood for 136th run
| | |
| --- | --- |
| 7/24/2012 | By Patsy Nicosia |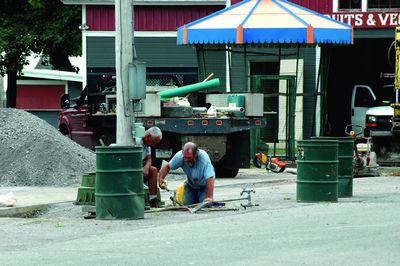 The 136th Schoharie County Sunshine Fair opens Friday with a nod to, who else? Irene and Lee.
The August 2011 storms flooded the Fairgrounds-which had been serving as Command Central for Hurricane Irene 911 efforts until Tropical Storm Lee roared in-washing out the race track, taking down fences, and damaging barns.
It was only with the help of volunteers, who put nearly 900 hours of work, said Fair President Doug Cater, that they'll be ready to go Friday.
And with that in mind, the 2012 Fair theme is "Schoharie County Shines Again."
"It took 700 tons of stone dust to get the race track back in shape and resurfaced, but we're ready to go," Mr. Cater said.
Drainage has been improved throughout the grounds, he said, but some work-like replacing the floor pavers in the Hall of Agriculture-will have to wait until the Fair, which runs though August 4, is over.
"With the loss of income from rentals and the extra expenses from the flood, it's been a little tight," Mr. Cater said.
"We really appreciate all the people who helped us get to where we are now."

• • •

Longtime favorites, the Junior Department horse and dairy cow will open Friday's Fair, but for those who go for the animals, Mr. Cater said, there will be plenty of new attractions as well, including a large poultry exhibit and show Saturday, August 4, something the Fair hasn't been able to offer for a while.
The oxen will be back and there will also be a group of long-horn steers in the Dairy Barns the second half of the Fair.
4-H has been moved to Progressland, turning the Youth Building into Days of Yesteryear, where there will be a carriage exhibit, Civil War reenactors, and a celebration of Schoharie's 300th anniversary.
The Alan Zerbini Circus will present 2-3 shows a day in the infield, and in front of the grandstand, entertainment will include the Tony Petersen Hell Drivers, lawn mower races, three demolition derbies, motor bike shows, and the Painted Pony Rodeo.
Entertainment in the Party Tent Theater will include tribute bands to Frankie Valli, the Beach Boys, and Garth Brooks, and yes, Terry Lee Goffee, who performs as Johnny Cash, will be back for the sixth time.
"No matter where I am, I have people stopping me, asking if 'Johnny Cash' is going to be at the Fair," Mr. Cater said. "They're even calling our booking agents. I've never been anything like it."
Other music will include local favorites Shakey Ground and Vocal Trash, a group that makes music on "found" instruments.
Monday the 30th is Community Support Day-bring two food items for local food pantries and get a $2 discount on admission; Schoharie County Appreciation Day is Wednesday, August 1 with $6 admission.
The fifth-generation Powers Great American Midway will bringing a number of new games, said owner Les "Corky" Powers, and Sunday and Thursday will be discounted Wristband Days.
"There are always a lot of last-minute details to take care of," Mr. Cater said, "but this year, especially, we're just so glad to be doing them. There were a few days last fall that had us wondering."