Sarah Goodrich: Starring role in SALT, recovery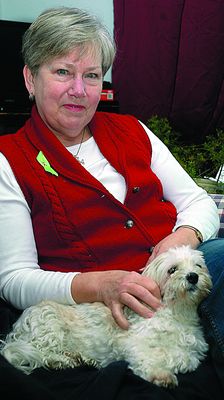 One of the lynchpins of the Schoharie Valley's flood recovery--if not the lynchpin--is Sarah Goodrich.
Ms. Goodrich has been the executive director of Schoharie Area Long Term recovery for more than a year, and as such, she's coordinated thousands of volunteers as the Valley gets back on its feet after Irene.
And for those tireless efforts, Ms. Goodrich is the 2012 Times-Journal Star.
Born in Ohio and raised in Georgia, Ms. Goodrich moved to the area years ago after marrying her husband, Dave.
Ms. Goodrich has held a variety of jobs--outdoor educator, running camps, teaching, hospital social work, running a rehab kitchen and operating a small café in the Schoharie Pharmacy.
In some way, all of them prepared Ms. Goodrich for flood recovery.
The Goodriches live in the Town of Wright, the last house before crossing the line into Schenectady County.
Their 1750s farmhouse sits high on a hill, and Ms. Goodrich often told friends in Schoharie that "if they wanted to get away from flooding, they could come up here."
In late August of 2011, two families did just that.
"We thought it would be a few days of fun and games, but five or six months later. . ." Ms. Goodrich said.
After the flood on Sunday the 28th, Ms. Goodrich went to Schoharie Reformed Church the following Tuesday, "and we couldn't believe what we saw. We pitched right in."
Ms. Goodrich's organizational skills soon kicked in. She and other church members divided tasks, with Ms. Goodrich agreeing to coordinate volunteers.
"We knew by instinct that people would come, and we knew money would come," she said.
Ms. Goodrich and Pastor Sherry Meyer-Veen attended the first Ground Zero meeting at the Fairgrounds and returned to open a make-shift office in the church parking lot "with a card table and a clipboard."
She helped organize the thousands of volunteers who turned out that Labor Day for Governor Andrew Cuomo's Labor for Your Neighbor, and, in an increasingly key task, helped get information out to the public.
"The more information people have, the more it reduces anxieties," Ms. Goodrich said. "But it was so challenging.
"People didn't have cell service, so we Xeroxed information and sent out runners. It was another way volunteers were essential."
Ms. Goodrich was among those who formed Schoharie Recovery in the early fall. SALT grew out of a meeting with FEMA representatives about a month later.
"They impressed on us the idea that a coalition was necessary to coordinate all the volunteer groups and to do fundraising," she said.
"The fundraising was especially important. Organizations weren't going to give money to each little volunteer group."
And Ms. Goodrich agreed to be the executive director.
"I just stepped up, and it just kept growing."
That it did. SALT at first helped the various groups work together. Early last summer, it began direct service, coordinating workers from church and service groups, VISTA, AmeriCorp, the Green Shirts and others.
As always, the goal was to get families back into their homes, from Esperance up the Schoharie Valley to Prattsville. Although Ms. Goodrich believes there's been much progress, she admits that there's still a long way to go.
"Some people think we're just about finished, but hard as it is to believe, people in need are still coming forward," she said.
"They may be out of resources, hit walls financially or emotionally or didn't want to ask for help. If anything, the help is more meaningful now. We'll be here as long as there's a need."
That's the long-term aspect of SALT; it's not just a weekend or a month, but years. Ms. Goodrich accepts the challenge.
"It's easy to respond to a crisis," she said. "But the long-term need is more difficult and more expensive. We realize that."
The physical work may have wound down in late fall, but the winter is for planning--assessing needs, contacting volunteer groups, linking with skilled labor unions, recruiting local volunteers, seeking grants and more.
"We're lining up our ducks for April," Ms. Goodrich said.
Help from out-of-area volunteers has been steady, she added, even though the flood is 16 months in the past.
"So many come and expect to put in their couple of hours," Ms. Goodrich said. "But they say they'll be back--and they come back--because they see the need and see the gratitude and graciousness of the people here, and they want to be a part of it."
It's the same with fundraising. People and organizations continue to be responsive, Ms. Goodrich said, though SALT has received no government funds at all.
"It's one of the things we're very proud of, but we'd love to see the government come through, especially when we see government money go to other areas for other reasons," she said.
The reward in seeing how far the Valley has come far outweighs the frustrations, which is why Ms. Goodrich is in it for the long haul.
"I stuck with it because I care about these people and this area more than I realized," she said. "Together, we make it possible."