Lopez sworn in for fourth term
| | |
| --- | --- |
| 1/8/2013 | By David Avitabile |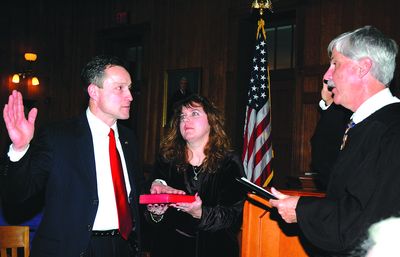 Assemblyman Pete Lopez is looking for a team effort as he begins his fourth term in office.
"At the dawn of this new year we face a collective challenge, to rebuild in a way to grow and prosper to be sustaining," he said after he was sworn in by Schoharie County Court Judge George Bartlett Friday evening.
"It takes a whole village. There are no I's. There are we's and that's what it takes."
The recovery from last summer's flood continues and further progress will require a collective effort, he said before a room full of family, officials and guests in the Schoharie County Court.
"We have a lot in front of us. I believe together we will make a difference," he said.
"We need your help, we cannot do this alone."
Assemblyman Lopez, who represents a seven-county district larger than Rhode Island, said the effects of the flood were devastating to many areas of the region.
The effects were evident in the Schoharie County offices and court, he noted.
"When we came in tonight we saw fences and boarded up doors" as the recovery work continues, he said.
"Those are stark reminders of Irene. Those fences, boarded up doors and windows are also a testimony of the ongoing recovery efforts."
There were challenges facing the people of the district and the flood "fast forwarded" those needs, the Assemblyman said.
The challenges of being a public official also continue, he said.
Serving is not about money or prestige, he said, adding that he learned long ago "those are false gods."
There are moments "when we make a difference in people's lives," he said.
He recalled a family coming into his office and members were worried about losing their daughter, who had MS, because they could not afford to have the necessary facilities at their small Saugerties home.
Officials were able to secure a grant so the family could put on a small addition that included a handicapped bathroom for their daughter.
Schoharie Mayor John Borst served as master of ceremonies for the installation ceremony. Reverend Carol Coltrain delivered the invocation and Reverend Jared VanWagenen gave the benediction. All three said how proud they were to work with the Assemblyman and how much he has brought to his office.
The Albany County Sheriff's Office Color Guard led the Pledge of Allegiance and John Lopez sang the national anthem.
A reception at the Parrott House followed the ceremony.