C-R FFA'ers get nat'l grants for ag-businesses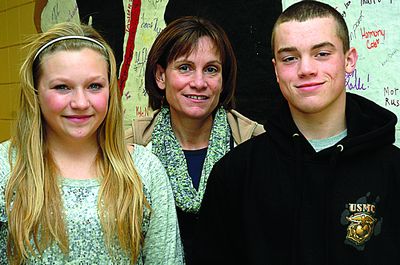 Two Cobleskill-Richmondville students received money--and national recognition, besides--for two ag-business projects.
Freshmen AJ Fletcher and Katerina Weingarten each received a $1,000 grant from the national Future Farmers of America. They're among only five from New York who received the grants.
"It's the first time we've applied, so it's the first time we've received them. It's pretty cool," said C-R ag teacher Deb Fletcher, who's also AJ's mother.
Called Supervised Agricultural Experience grants, the awards help young FFA-ers advance a fledgling business venture or project.
"FFA decides on who needs a boost or who will benefit most," said Ms. Fletcher.
AJ will produce maple syrup, while Katerina will make soap and lotion.
AJ had 84 maple tree taps last year and produced about six gallons of syrup. Now armed with the grant, he'll be able to tap 300 trees and hopefully produce 85 gallons to sell.
"It's kind of a long-term project, and this will definitely help," AJ said.
Katerina milks dairy goats and plans a business making goats' milk soap, lotion and lip balm.
"We made soap in 4-H, and you can scent it, color it and make personalized gifts," she said.
Like AJ, Katerina plans to continue her entrepreneurial project, as the grant will purchase lye, special pans and molds for the soap.
Proud of her students, Ms. Fletcher said they may be able to sell their products in C-R's school store.
Katerina and AJ each had to complete a seven-page application and must document their work and make a final report to the national FFA.
Both can apply for FFA grants and awards in the future, Ms. Fletcher said.
Among the other New York winners, two grants went to students at Tri Valley High School in Grahamsville and one went to a student at South Jefferson in Adams.
Nationally, FFA awarded 69 $1,000 grants. There were 534 applicants.