Bull's Head: New owners for historic Cobleskill landmark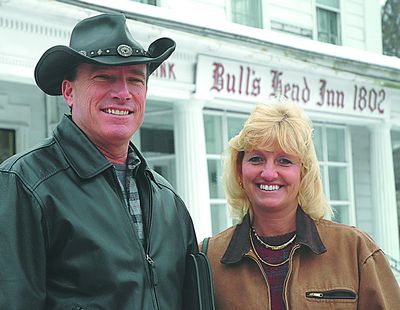 An institution among Schoharie County's restaurants may be back in business this summer.
Partners Chris Guldner and Mary Sagendorf bought the Cobleskill restaurant last Monday and plan to make it a popular nightspot again.
One of Cobleskill's historic buildings, the 1802 restaurant was closed late in the summer of 2011 by owner Tony Giammattei.
Mr. Guldner and Ms. Sagendorf bought the Bull's Head from Mr. Giammattei.
"One day I was poking around online, and I saw the Bull's Head for sale," said Mr. Guldner, who's from Saratoga. "It seemed like such a nice place, and we were looking for an investment."
His friend verified Mr. Guldner's impression.
"It saddened me every time I drove by and saw it closed," said Ms. Sagendorf, a Cobleskill native. "It was such a wonderful gathering place."
So they went for it. Joining the partners--but not on the scene--is a third member, Kevin Guldner, Mr. Guldner's son, who's a Navy fighter pilot now serving in Japan.
But they didn't go into it eyes closed.
They toured the Bull's Head several times with Cobleskill Codes Officer Mike Piccolo.
After Mr. Giammattei closed it, an auction last summer gutted the place. There's no furniture and no kitchen equipment except for a walk-in cooler.
Mr. Guldner, however, has rehabbed buildings in Saratoga Springs and run restaurants and delis there.
"It's structurally sound," he said of the Bull's Head. "It was well-built, and it still is."
The restaurant needs a new heating system, and "cosmetically, it's not what we want," Mr. Guldner said. "We want it warm and cozy, and we'll restore it to what it originally was."
And, of course, it needs a new kitchen.
"We'll bring in a professional chef and do it right," Mr. Guldner said.
"We'll plan the kitchen around the menu," Ms. Sagendorf added.
They plan to reopen the downstairs pub and have the restaurant on the ground floor. Unlike past owners, they'll have one menu--pub style food--for both.
They also plan to serve local produce.
"In Saratoga, it's nothing to see a Sysco truck pull up," Mr. Guldner said of a supplier. "But here, we want to go to local farmers as much as possible."
Considering the work ahead, Mr. Guldner estimated the Bull's Head would reopen in August, before SUNY students return.
The partners will seek energy and restoration grants and tax incentives for historic restoration.
"There are plenty of opportunities not to take money out of our pockets," Mr. Guldner said.
And as they meet with local officials about grant possibilities, they'll also seek community input about the décor and the sign and flame out front.
"We want to involve the community," Ms. Sagendorf said. "It really will take a whole village to bring this back."
In the meantime, they'll keep their day jobs. Ms. Sagendorf is a flight attendant, and Mr. Guldner is in organizational development and training at Knolls Atomic Lab in Niskayuna.