Sharon college kids tell it like it really is
| | |
| --- | --- |
| 1/15/2013 | By Patsy Nicosia |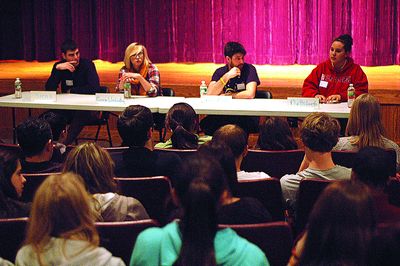 If you want to know what college is really like, go to the experts:
College students.
As part of what she calls College Awareness Week, Sharon Springs Central School Guidance Counselor Brenda Stetin Thursday brought in four SSCS alumni for a panel discussion on everything from getting along with roommates to taking responsibility for your own education.
The College Student Panel followed other events intended to get 7th-12th graders thinking about college.
Tuesday was Wear a College T-Shirt or Sweatshirt Day; Wednesday's Scavenger Hunt Day had kids quizzing teachers on their college experiences for a chance to win an iTunes card.
Friday, College Representative Panel Day, with speakers from two- and four-year SUNY schools and a private college, wrapped up the week.
"It's something we do every January just to get the kids thinking," explained Ms. Stetin.
"For the younger students, it's probably their first exposure to some of these college issues. For the seniors, hearing what college is really like gives them a better idea of what to expect."
College Student Panel participants were: Michael Schilde, Siena; Olivia Tomaszewski, George Washington University; Josh Simpson, SUNY New Paltz; and Natalie Spiess, SUNY Plattsburgh.
Mike and Josh are seniors; Olivia and Natalie are both sophomores, but because they took college-level courses at SSCS, credit-wise, they are already juniors.
Josh, who is a resident assistant at New Paltz, told the SSCS students that dealing with roommates will be one of the first challenges they'll face at college.
His first room was a triple with one "good guy...and Owen. Owen never left his bed. He couldn't get used to the fact that his parents weren't there to pick up after him."
Mike spoke to the importance of grades and homework.
"How many of you like doing homework?" he asked the crowd.
Only English teacher Tom Yorke raised his hand.
"Well, if you slack off, you're not going to get far," he continued. "Remember: You're paying to go."
In addition to his college courses, Mike is interning at General Electric-a position he wouldn't have gotten without his grades.
"You're at the stage where it's easier to get your grades up," he added. "Practice how you play."
Natalie told the group her first roommate never showed up-which wasn't as great as it sounds because she had to take the initiative in meeting people.
"I dealt with that by going to every club I had the slightest interest in," she said. "It's a great way to find people with common interests and it's where I made most of my friends and the suitemates I'm living with now."
Over time, Natalie said, she weeded down those clubs to just a few-where she's now actively involved as an officer.
"I've also learned some valuable skills and made some great contacts on campus and in the community," she said.
"You can't just sit in your room and you can't go home every weekend. Take time to get to know the downtown, too. You'll be surprised what you find."
Olivia agreed with the importance of getting involved.
She, too, tried out a lot of clubs and even started her own, a women's basketball club that plays other teams in Washington, DC, where she goes to school.
Olivia also talked about the importance of college visits-even as Josh said he decided on New Paltz after a visit to a downtown coffee shop.
"A lot of schools look good on paper, but when you get there, it's different," Olivia said, "especially if you're not sure what you want to study."
Coming from a school of 300, George Washington, with 11,000 students, was an adjustment, she said, especially when she was in classes of 300-400 students.
"I was a little intimidated...I didn't know how I measured up. But once I got to know my professors, that made all the difference."