99 seized, surrendered cats crowd Shelter
| | |
| --- | --- |
| 1/30/2013 | By Patsy Nicosia |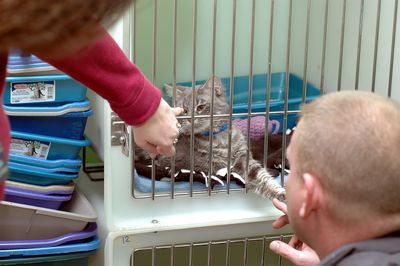 Ten days after a Town of Wright woman willingly surrendered 27 cats and kittens to the Animal Shelter of Schoharie Valley, Schoharie County Sheriff's deputies returned Wednesday with a search warrant for the other 72.
The cats, kittens, and two dogs were all taken to the Shelter, pushing it to overload capacity, said manager Kerrie Colin.
Also discovered at the Route 146 home were 67 dead cats and kittens in a refrigerator freezer, each individually wrapped in plastic bags.
Sheriff's deputies said they believe the cats were dead before they were placed in the freezer; it's possible the woman-who police aren't yet identifying-was waiting till spring to bury or dispose of them.
"It's a bad situation," said attorney Mike West, who sits on the Shelter's Board of Directors. "She probably had good intentions. Now she's lost the cats that she must have cared for and she's lost her home as well."
Mr. West said the home has been condemned.
At a press conference Thursday, Deputy Dan Smith described the scene as overwhelming with the smell of feces and urine pervasive and furniture and even sheetrock destroyed by the cats, most of whom were kept in stacked cages and crates in very tight quarters.
The woman, 50, was very cooperative, Deputy Smith said.
Ms. Colin said the Shelter was aware of the woman's situation and had been providing her with food-but were unable to convince her to give up any of the cats until about 10 days ago, when she signed over the first 27, many of them black and gray kittens with mothers little more than kittens themselves.
Ms. Colin said the woman first contacted the Shelter about a year and a half ago, asking them to take some of the cats, and was put on a waiting list.
"But when her name moved to the top of the list, she'd changed her mind," she said.
"She probably loved the cats...She just didn't know when enough was enough."
After the cats and kittens were secured Wednesday, they were moved to a temporary facility at the Town of Wright DPW Garage where Cobleskill veterinarian Vern Durie examined them.
All were vaccinated for rabies with vaccines donated by Merial Pharmacy of Malta.
Three were euthanized, others were treated for fleas, wounds, dehydration, and upper respiratory illnesses.
None of the cats were underfed-in part because of the food the Shelter had given to the woman, Ms. Colin said-and many in the first group of cats and kittens wanted nothing more than to play, poking their paws through cages to grab at reporters and Ms. Colin's dangling hair.
Ms. Colin said the Shelter's never received so many cats and kittens at one time and they've been forced to seek foster homes for some of the 20 cats they were already caring for.
There's been an outpouring of donations of cat food and litter and by Sunday, the Shelter, which is a no-kill facility, was asking for cash donations instead.
Checks can be mailed to: ASSV, PO Box 40, Howes Cave, NY 12092.
Donations can also be made online at Schoharieanimalshelter.org.
It's possible that the woman will face misdemeanor animal cruelty charges, but both Ms. Colin and Mr. West said what she more likely needs is mental health assistance.
"It all started when someone dropped off a pregnant cat," Mr. West said; soon, others followed.
"This is what happens."
Ms. Colin said the Shelter hopes to have a mass adoption day for the cats and kittens within the next two weeks.
Applications are available on the Shelter's website.
Thursday's press conference took place in the Shelter's under-construction new facility, which will include space for low-cost spay and neuter clinics.