Cops still looking for Sharon bank robber
| | |
| --- | --- |
| 1/30/2013 | By David Avitabile |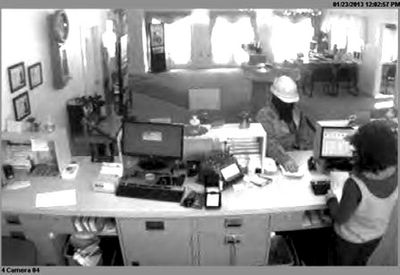 A man dressed like a telephone lineman stole an undetermined amount of money in a mid-day robbery at the NBT Bank in Sharon Wednesday afternoon.
At 12:04pm Wednesday, a white man wearing a yellow hard hat, a reflective work vest, jeans, gloves, and a hooded sweatshirt, entered the bank and handed a teller a note demanding cash, said the Latham State Police.
Sheriff Tony Desmond, who spoke to the State Police about the robbery, said though a weapon was not displayed, the man implied that he had a hand gun.
The man is described as about five foot eight inches tall with a stocky build, police said. He left on foot in a northerly direction behind the bank.
At this time, he is believed to have left the area in an older model black Jeep with a hard top and a yellow emergency light affixed to the roof, police said. The vehicle was equipped with white rims and an older white New York State license plate.
The Jeep went in an unknown direction of travel after leaving the bank, police said.
Sheriff Desmond said he heard the Jeep left the bank and was traveling north on Beechwood Road, toward Montgomery or Otsego counties.
It is rumored that the man was working on a pole outside, though Sheriff Desmond said it appeared that the man was just dressed as a lineman.
Helicopters searched the area for several hours looking for the man.
Police said there was a bank robbery in Guilderland and they are investigating whether the two are related.
The investigation is continuing into the Sharon robbery, police said.
Sheriff Desmond said several people called him with information and leads and he referred them to the State Police.
Sharon Springs Central School, located across the street from the bank, was "locked down" for about a half hour and then "locked out."
There were no after-school activities at the school Wednesday.
The lobby of the nearby post office was open at the time of the robbery but the window was closed.
Anyone with information on the robbery or vehicle is asked to contact the State Police in Princetown at 630-1700.
On Thursday, NBT Bank officials announced they are offering a reward of up to $10,000 for original information leading to the apprehension, arrest and conviction of any individual or individuals involved in the robbery.
To provide information to bank officials, call (607) 226-0509. All information will be kept confidential.