Text leads cops to Summit burglars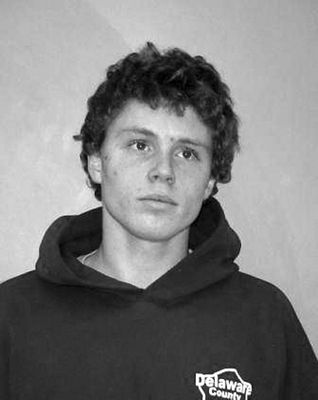 A texting burglar was one of two men arrested after they allegedly broke into a home in Summit Friday.
The Cobleskill State Police said they were sent to a call of a burglary in progress at a home on Baldwin Road in the Town of Summit on Friday.
As the responding Trooper was broadcasting a description of the vehicle, which was a green older style pickup, two other Troopers were involved in a foot pursuit of two men from a traffic stop near the old Summit Country Store on Route 10. The Trooper had spotted the pickup, which pulled in behind the store, and the two men fled into the adjoining fields and woods.
After a pursuit, one man was located on Route 10, police said. After an extensive search, and with the assistance of Department of Environmental Conservation Officer Keith Isles and his K-9, Troopers located the second man in a wooded area hiding behind a barn.
A search of the suspects' vehicle revealed equipment used to break into buildings, police said.
The two men were arrested on charges of second-degree burglary, a felony, possession of burglar tools and resisting arrest, both misdemeanors, police said.
According to police, arrested were: Wayne E. Swart, 36, of Hobart and Devyn T. Clum, 18, of Bloomville.
While fleeing from police, Mr. Clum texted a friend, "I am outrunning the police, come get me." He was apprehended before his friend arrived, police said.
The two men were arraigned before Summit Town Justice Gerald Vester and sent to jail in lieu of $50,000 cash bail or $100,000 bond, police said. The State Police were assisted by the Schoharie County District Attorney's office.