Two years after, CART readies for next disaster
| | |
| --- | --- |
| 7/16/2013 | By Patsy Nicosia |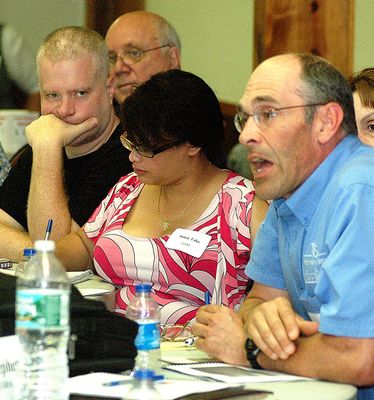 The scenario is eerily familiar:
A slow-moving August weather front and then 12 inches of rain, with high winds, power outages and flooding in the Schoharie Valley.
Roads are impassable.
Evacuation orders are issued, but many refuse to leave their pets and livestock; horses and cows are already wandering lose.
It wasn't 2011's Hurricane Irene, but rather an imagined storm that brought about two dozen representatives from local government, State Ag & Markets, and groups like the Animal Shelter of Schoharie Valley to Esperance Wednesday for a tabletop drill focusing on the animal and farm piece of the next disaster.
For four hours participants discussed what had worked best in the past and where they could improve.
"I think we got a lot of people talking. Now they have a better idea of where the resources are and who to turn to," Anne MacCuish of the Schoharie County Emergency Management Office and the County Animal Response Team, said afterwards.
"We shared a lot of good information."
The exercise was funded by the Office of Homeland Security through State Ag & Markets and also included Columbia and Greene Counties.
One of the biggest challenges when it comes to livestock, all agreed, is knowing where the farms are, what they need, and what resources they might be able to offer others.
USDA's Leslie Personnett pointed out that there is a national registry for farms they could use, but it's been poorly received because of privacy concerns.
Dutchess County has been putting together a list of who has trailers that could be used in a disaster, but it's time-consuming; others pointed to the need to be constantly updating any list.
Some agencies use social media like Facebook and Twitter to post disaster updates and evacuation sites and suggested using that as a way to reach out to farmers.
But others said too few farmers are online and especially in Greene County, internet and even cell coverage are spotty and unpredictable, even in the best of times.
Schoharie County Sheriff Tony Desmond said his office was overwhelmed with phone calls during Irene and suggested establishing a dedicated line at the Emergency Management Office for non-emergency calls that could coordinate this type of information and Assemblyman Pete Lopez said it could all be rolled into a campaign involving Farm Bureau, FFA, 4-H using online resources as well as newspapers and radio.
Disaster resources for pets like cats and dogs vary widely from county-to-county, but it's usually volunteers or private groups like the Shelter or the Columbia-Greene Humane Society that end up taking the lead, their representatives said.
Deborah Fletcher, an ag teacher at Cobleskill-Richmondville High School, said it was volunteers who gathered crates to set up a shelter for pets at the Golding Middle School during Irene.
Ms. MacCuish said she's working closely with the American Red Cross to make sure future human shelters also have pet shelters within walking distance.
As the group grabbed lunch before moving on to what they'd do to recover from the fictitious storm, Esperance Supervisor Earl VanWormer said he thinks one of the best disaster plans is looking out for ourselves.
"I'm all for developing a local plan," he said, "then going to the state if needed. The first 48 hours are critical."
Suggestions from the exercise will be evaluated Thursday and added to the county's Comprehensive Emergency Management Plan.