Cobleskill Creek Trail opens to hikers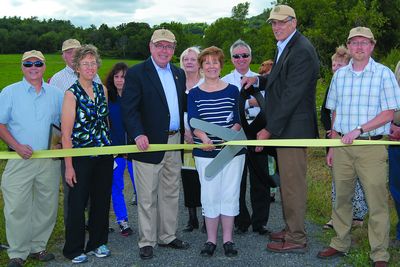 The Schoharie County Trail Association held a ribbon-cutting ceremony Wednesday to mark the opening of the first section of the Cobleskill Creek Trail.
The event was held at the Warnerville Cutoff parking area, where a kiosk displaying a map of the trail is also located.
The current trail uses the SUNY farm road behind Hess, crosses the Cut-off Bridge, and then proceeds along West Creek to the railroad tracks.
In the next few weeks the trail will be extended by another 1,500 feet and by the end of fall, the plan is to be at the Cobleskill Creek behind the Maranatha Community Center, where owner Stella McKenna has granted an easement to the group.
The trail will then follow Route 7 to the Cobleskill-Richmondville High School.
The group is working on signage and pavement markings for the trail and is also considering other projects, including a Central Bridge to Middleburgh trail.
The Trail Association worked with Andre Nadeau to install the first portion of the trail.
The route includes a pavilion built by CS Arch and UW Marx Construction; Cobleskill Rotarian Said Yassin assembled the kiosk as well as the benches along the trail.
Supporters of the trail include: The Cobleskill Rotary Club, Sterling Insurance, Robert Nied Consultancy Group, Maranatha Community Center, Creating Healthy Places NY, United Way, Campus Auxiliary Services, Bank of Richmondville, C-RCS Class of 2009, CS Arch, Fenimore Asset Management, In Memory of Carl Sand, Realty USA, and UW Marx Construction.
The Trail Association elected officers at Wednesday's event and first annual meeting: John Rose, chair; Maureen Blanchard, vice chair; Shane Nickle, secretary; Marty Thompson, treasurer; and members-at-large Milan Jackson, Larry Phillips, and Betsy Bernocco.