August 17 Family Farm Day combines agriculture, tourism
| | |
| --- | --- |
| 8/6/2013 | By Patsy Nicosia |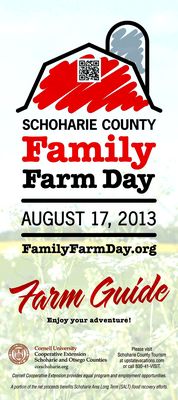 Nearly two dozen local farms will be opening their barn doors to visitors on August 17 for the first-ever Schoharie County Family Farm Day.
The event, which also includes three farmers markets, runs from 10am-4pm, and is the brainchild of Cornell Cooperative Extension's David Cox, who sees it as a way to bring in tourists-and shoppers-from as far away as the Capital District.
Mr. Cox modeled Family Farm Day on Madison County's Open Farm Day and already, he said, there's interest in linking it to ag-related tours and events in other, nearby counties in future years.
He also sees potential closer to home-and sooner; a fall Harvest Moon promotion could build on the popularity of Sharon Springs' September Harvest Festival by encouraging restaurants to feature meals using local produce and products.
"The whole idea is to bring in people for a day of visiting farms," Mr. Cox said of Family Farm Day, noting at the last Open Farm Day, an estimated 5,000 visitors stopped at Madison County farms, a quarter of the farms sold more than $400 of products, and 83 percent of participating farms reported an increased awareness of their products.
Central to the effort is a Family Farm Day Guide that's now available at local restaurants, convenience stores, participating farms, farmers' markets, and municipal offices; some 10,000 guides are being distributed locally and throughout the Capital District.
The guide divides the participating farms into three regions and includes a map to help visitors plan their route and maximize their visit.
The guide also includes photos and information on each of the farms as well as contact information Mr. Cox hopes visitors will use again and again.
Visitors will also be encouraged to have their guide stamped before they leave each farm; visit three if more farms, complete a survey, and win a reusable insulated shopping bag.
The farms and the three participating farmers' markets will be marked with Family Farm Day signs to make them easy to find.
Sponsors for the day include Cornell Cooperative Extension of Schoharie and Otsego Counties and Schoharie County Tourism, along with local sponsors; SALT is also providing logistical help.
More information and a downloadable PDF version of the guide is available online at FamilyFarmDay.org.
Participating farms include:
Barber's Farm, Black Willow Pond Farm, Brookworks LLC, Buck Hill Farm, Central Bridge Farm, Cold Spring Farm, Danforth Jersey Farm/Cowbella.
Also: Fox Creek Farm, Heather Ridge Farm/Bees Knees Café, Hessian Hill Farm, Horton Hill Farm, Peck and Potter Farm, Reed's Real Beef.
Also: Royal Oak Farm, Sap Bush Hollow Farm, Schoharie Valley Farms/Carrot Barn, School Hill Farm, Signal Hill Farm, Sunny Knolls Farm, SUNY Cobleskill Campus Farm, Weathertop Farm, and Wellington's Herbs & Spices.
Participating farmers; markets are: Festival Farmers' Market, Cobleskill; Sharon Springs Farmers' Market, and Summit Farmers' Market.