Richmondville looks to grants for new municipal building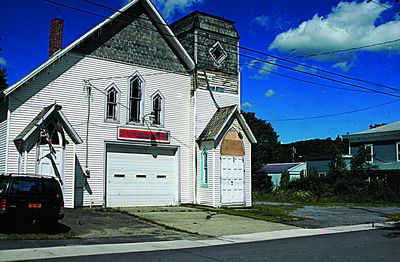 Richmondville hopes to build a new municipal hall to house both town and village offices.
But the project won't go forward without grants, town and village officials stressed at a public hearing Thursday night.
"This is an opportunity for the village and town to work together, but a lot depends on grant funding," Mayor Kevin Neary said.
The joint hearing was to take comments on a $750,000 grant application, and officials used the opportunity to review the project.
Grant writer Fred Krone of GEMS, a consulting firm, said the search for a site settled on the former RVES building on Holmes Street, owned by John Babcock of Paradise, California.
"It's the old rescue squad building and the lot adjacent," Mr. Krone said. "It's as close to the center [of the community] as possible."
The building would house the village and town offices, court, Richmondville Power and Light, and space for the codes officers, assessor and highway superintendent.
"It would be a complete package, 5,000 or 6,000 square feet," Supervisor Dick Lape said.
Both the town and village need new quarters, officials said. A 2010 architect's study estimated nearly $1.4 million in improvements were needed for the village office on Main Street.
Those improvements include handicap accessibility, air conditioning, an addition and asbestos abatement, among other work.
The town office, housed in a Quonset hut on Main Street, is too small and also needs handicap accessibility, Mr. Lape said.
A new building would resolve issues for both municipalities, neither of which could tackle a new building alone.
"Working together, the town and village can save a bit of money," Mr. Krone said.
And a single building would offer other advantages.
"It would be more convenient for people to stop at one place," Mayor Neary said. "We'd be looking at more shared services and merging building operations."
Early--and very rough--estimates put the cost of the building at $1.5 million, Mr. Krone said.
He hoped "to whittle that down" to $1 million, while Mayor Neary is targeting $500,000 to $700,000.
Although there might be a small local share of the cost, the aim is to have grants pay all or almost all of it.
"The key here is that we're not looking to raise taxes," Mayor Neary said.
Mr. Lape agreed.
"If we don't get this grant, we'll keep looking," he said. "We won't take no for an answer."
Mr. Krone submitted the grant application earlier this month. He didn't expect to hear of its approval till after January 1.