Thank you Schoharie Recovery!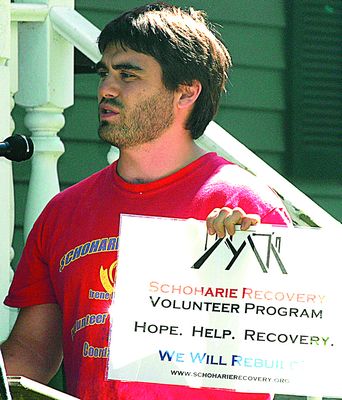 Members of Schoharie Recovery came up for high honors on Saturday.
A ceremony on the DAR lawn in Schoharie praised the organization and its tireless volunteers for the work they did rebuilding homes after Irene.
Schoharie Recovery recently merged with Schoharie Area Long Term, and Saturday's observance celebrated the union as well as the progress made two years after Irene struck.
Both organizations had thousands of volunteers during the rebuilding, Schoharie Recovery focusing on the Schoharie School District and SALT on the entire Schoharie Valley.
"As we come together this time of year, we can't help but look back to where we were and where we are today," said SALT Executive Director Sarah Goodrich, remarking on the two-year anniversary.
"Nobody could imagine that we've made this much progress."
Shortly after Irene struck on August 28, 2011, "people stepped up" and "created the backbone and structure of Schoharie Recovery" necessary to begin immediate relief efforts, Ms. Goodrich said.
Besides raising money and helping families rebuild, Schoharie Recovery also provided food and a place for camaraderie in the Loaves and Fishes Café, she said.
Started by Jan Bassett and Emily Davis--who were soon joined by many others--Loaves and Fishes served 28,000 meals to families and volunteers working in the area.
"It wasn't just peanut butter and jelly. It was like a smorgasbord every day," Ms. Goodrich said.
Sustenance for Schoharie Recovery itself was summed up in three words: Hope, Help and Recovery. Schoharie Recovery Director Josh DeBartolo stressed that theme as he addressed the audience of about 100 on Saturday.
The rebuilding effort drew more than 35,000 volunteers "from Canada, London, California and everywhere in between," Mr. DeBartolo said.
"They were not just tearing down walls but building up hope," he added. "Each volunteer brought us one step closer."
Richard Ball, chairman of Schoharie Recovery, noted that Irene "tested our capacity to do good things," but volunteers answered the challenge.
But as did other speakers, Mr. Ball pointed out that as far as recovery has come, it's not done yet.
"It's time to focus on the remaining recovery," he said.
Together, Schoharie Recovery and SALT surveyed 1,000 properties, and of those 63 percent have completed construction, according to SALT's Jerrine Corallo.
A year ago--at the first Irene anniversary--only 21 percent had completed construction.
Still, 37 percent still need work, in some cases major work, and volunteers committed themselves to that goal on Saturday.
"I have people come up to me and ask, 'When will we be finished? When will you be done?' " Ms. Goodrich said. "We'll be done when the work is done."
Being done means more than just rebuilding what was there. Several speakers pledged that the Valley will be in better shape than before Irene.
"In many ways, the Village of Schoharie will come out stronger than before," said Larry Caza, representing the village.
Ms. Goodrich agreed.
"We will have woven together a new community," she said.
"Nobody can do it all, but everyone can do something. We are thriving because of Schoharie Recovery."
• • •
Officials Saturday honored Mr. DeBartolo, Ms. Bassett and Ms. Davis, all of Schoharie Recovery. Also honored--with all receiving commemorative bookmarks--were:
Marion Jacqueway, John Poorman, Wanda King, Pastor Sherri Meyer-Veen, Richard and Shirley Ball, Bob Price, Barb Monsees, Jill Sholtes, John and Ruth Anne Wilkinson, Carolyn Wellington, Terresa Backner and Tracy Boothe.
Also, John Borst III, Joel Bramer, Erin Ethier, Tom Putnam, Dianne Enders, Bill Kaminsky, Kirk and Linda Feuz, John Hausmann, Dawn Milone and Ruth Schaeffer.
Also, Bill Farrell, Mike and Susan Reed, Sal Medek, Nellie Hoyt, Judy Durland, Karen Olewnick and the Charleton Girls led by Eliot King.
Saturday's observance also included an artisan's market and performances by Bethany and Rufus.