Longtime Cobleskill village clerk moving on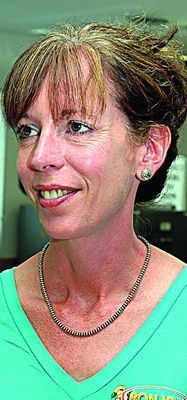 One of the Village of Cobleskill's longest-tenured employees is stepping back from her job.
Sheila Hay-Gillespie, who's worked in the village office since 1987, has taken a job with the Attorney General's office in Albany.
As village clerk for years, Ms. Hay-Gillespie--formerly Sheila Wilday--has been the face of the village office longer than many can remember.
Ms. Hay-Gillespie will continue as a part-time clerk, though she won't be meeting the public; she'll be working nights and weekends when the office is closed.
She's taking the new job because hers may be eliminated if the Village of Cobleskill dissolves, a goal of Mayor Mark Galasso.
Also, by finding a new job, Ms. Hay-Gillespie believes she'll be saving the jobs of Nelli Mooney and Jen Redmond, also clerks in the village office.
Mayor Galasso backs Ms. Hay-Gillespie all the way.
"I support 100 percent anything Sheila wants to do," he said. "She's one of the hardest working employees in public service, and I've worked with people from the village level to the federal level."
Cobleskill won't be replacing Ms. Hay-Gillespie. Ms. Redmond and Ms. Mooney will work half-time in the village office. Ms. Redmond will continue working half-time for the police department, and Ms. Mooney, half-time in the codes office.
On nights and weekends, Ms. Hay-Gillespie will work on accounting, bookkeeping "and processing paper," Mayor Galasso said.
"With nobody disturbing her, her production goes up," he added. "It's a trial run for a couple of months. If it doesn't work, we'll address it."
Ms. Hay-Gillespie started her new job August 1, so the system's been in place for nearly a month.
"If the workload gets too much for all of us, then we'll scrap it and go from there, but for now things are rolling along pretty well," Ms. Hay Gillespie said.
Working only half-time with no bustle of the daily office will be a change for her.
At age 19, Ms. Hay-Gillespie was working the second shift at Interknitting and going to SUNY Cobleskill in the mornings.
College accounting Professor Jerry Hisert gave her name to then-Mayor Nick Iorio as someone who might work in the village office.
Although the village job paid only $5 per hour--less than what Interknitting paid--Ms. Hay-Gillespie's dad urged her to take the job. . .against her wishes.
"I was fit to be tied," Ms. Hay-Gillespie said.
Things got better. Shortly after she started, the deputy-clerk resigned, and Ms. Hay-Gillespie was offered the job.
To take it, she'd have to move from Richmondville to Cobleskill and pay rent she couldn't afford.
But the Mayor arranged a low-rent apartment with a landlady, and village officials helped out, too.
"The trustees had an apartment warming party for me, bought me a microwave, and the former Police Chief Maynard Sullivan Jr. supplied me with a dresser and a bed," Ms. Hay-Gillespie said.
"They saw something in me that I didn't see myself. I hope I've served them well and lived up to their expectations."
She became village clerk in August, 1990, when Bill Wolford was Mayor, and continued through the administrations and village boards of Chuck Milton, Greg Flanagan, Al Toohig, Bill Gilmore, Mike Sellers, Mark Nadeau, Ted Brinkman and Mayor Galasso.
She'll miss all those trustees and mayors, past and present, and also village residents she saw every day.
"I'll miss seeing the department heads and Jen and Nelli," Ms. Hay-Gillespie said.
"During my last week, some of my favorites came in, so I got to see them again and visit with them once more."