NY Rising: A look at the future?
| | |
| --- | --- |
| 10/1/2013 | By Patsy Nicosia |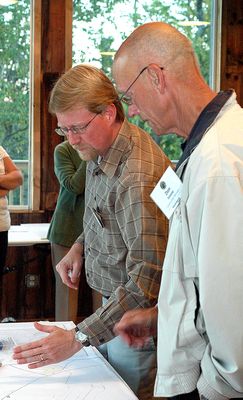 Busier Main Streets.
Open space.
More housing and more housing options.
A Schoharie Creek that's a friend-not a foe-with improved public access.
Economic development.
That-and more-is the Schoharie Valley's vision for its own future as seen through the eyes of its New York Rising Committee.
The group of 15 volunteers was appointed by Governor Andrew Cuomo to help decide how to best spend $12 million he's pledged to Esperance, Schoharie, and Middleburgh for Hurricane Irene flood recovery and rebuilding.
Thursday at the Landis Arboretum in Esperance, community members had a chance to view the committee's progress to date at a series of stations highlighting plans and projects already in the works, assets-from banks and cemeteries to Depot Lane, Harva, and the Arboretum itself-and long-range plans.
Esperance Supervisor Earl Van Wormer said he was most interested in the last one.
"I hope we can use this money to leverage more money and get some real things accomplished," he said,
"Three million dollars seems like a lot and we're thankful for it, but my list of projects runs into the millions and millions. What I really want to see are some lasting results."
The Town and Village of Esperance and the Villages of Schoharie and Middleburgh are in line for $3 million each-leaving many to wonder why the Towns of Schoharie and Middleburgh were left off the list.
The committee's response has been to look at the Schoharie Creek watershed as a whole and Mr. Van Wormer said he's already been talking with Schoharie Supervisor Gene Milone about including the Central Bridge Water District on his own wish list.
"I don't mind sharing if it's something that helps both communities," Mr. Van Wormer said. "Imagine the economic development we could create if we do this right."
Thursday's turnout was relatively low; Mr. Van Wormer said he thinks that's because people are skeptical of the process.
Middleburgh Supervisor Jim Buzon pointed out that together, the town and Middleburgh Central School have spent about $92,000 to protect the Village of Middeburgh from a repeat of June 14's Stony Creek flooding-work that would have been done post-Irene if they hadn't been so busy doing so much else.
Mr. Buzon asked whether the two could be reimbursed with some of the $12 million and was told by consultant Amy Mahl of Ecology and Environment out of Albany to make sure his concerns were addressed by the lists at the evening's stations.
"Your input in this process is vital," state planner Jamie Eithier, who lives in Richmondville and saw the impact of Irene firsthand, told the audience.
Selected projects and tentative budgets need to be in the Governor's office by the end of October; they'll be presented to the public at a meeting on the 24th; details will follow.
Sarah Goodrich and Georgia VanDyke chair the New York Rising Committee.
Other members are: Judy McLaughlin, Gail Browning, Carol Coltrain, Anne Schwed, Jessica Loden-Kirby, Richard Ball, Darlene Patterson, Gail Breen, Imants Schrederis, Shane Nickle, Jason Becker, Pete Nichols, and Lillian Bruno.