Cobleskill bust sets $ record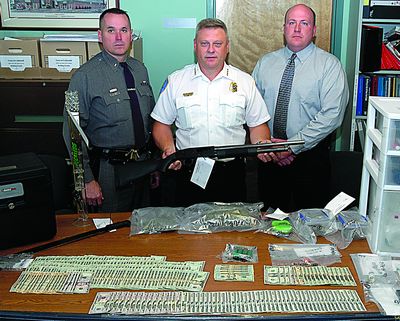 Cobleskill Police and State Police seized drugs, cash and weapons in an arrest on West Main Street Friday.
The bust confiscated the largest amount of money in Cobleskill in years, according to Police Chief Larry Travis.
Police charged Michael C. Leavey, 21, of Baldwin with one count of third-degree criminal possession of marijuana, a class E felony, and one count of seventh-degree criminal possession of a controlled substance, a class A misdemeanor.
More charges are pending.
The investigation started in April after police received information that Mr. Leavey, a SUNY Cobleskill student, may be involved in the sale of marijuana and other drugs.
Acting on a search warrant, Cobleskill Police and the State Police Community Narcotics Enforcement Team entered Mr. Leavey's West Main home Friday afternoon and found more than a half-pound of marijuana, steroids and hypodermic needles.
They also seized pipes, bongs, plastic bags for packaging and digital scales, along with what's believed to be a high-quality controlled substance. Tests of the substance will determine whether Mr. Leavey faces more charges.
"This just shows that even in Cobleskill, things like this can happen," said Chief Travis, who's been in the department for 20 years.
Police also found $9,540.25 that was in a safe with the marijuana.
"It's the biggest amount of cash we've seen that I can remember," Chief Travis said.
Along with the drugs and cash, officers found a loaded 12-gauge pump-action shotgun under Mr. Leavey's mattress and a machete that may have been used for harvesting pot or as a weapon, police said.
Mr. Leavey was arraigned in Cobleskill Town Court and was sent to the Schoharie County Jail on 10,000 cash bail or $30,000 bond. He was to return to court Tuesday evening.
Police are asking anyone with information about this case--or any other drug activity in Cobleskill--should call Sergeant Rich Bialkowski at 234-2923.
Information provided will be kept confidential, police said.