6th Literacy Vols' SCRABBLE is March 22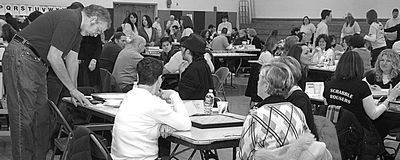 Literacy Volunteers' upcoming SCRABBLE tournament aims at making words and making money.
The sixth annual SCRABBLE tournament is set for March 22 at Radez School in Richmondville, and teams can sign up now to participate.
The idea is for teams to have fun and win money and prizes. But the tournament is also a fundraiser for Literacy New York--Fulton, Montgomery and Schoharie Counties.
"Our SCRABBLE tournament has become a tradition of fun, friendly competition," said Lisa Cardilli, Literacy Volunteers' executive director.
"At the same time, it's our most important fundraiser of the year. It's essential for us."
Last year's tournament drew a record 21 teams and raised $8,000 for Literacy Volunteers.
Two-to-four person teams will compete in three SCRABBLE games. The team with the highest combined score from the three games wins $200.
The next three teams will each win $100. To keep it interesting for all teams, one team will be drawn from the rest to win $100.
As in past tournaments, the three SCRABBLE games will have different rules. This year's event will feature at least one new game that promises to stump novices and experienced players alike, Ms. Cardilli said.
Players can improve their scores by buying extra letters or pay to check a dictionary for correct spellings or high-scoring words.
Volunteer judges will be available to help with rules and answer questions.
Besides cash, players can win prizes during trivia contests in between SCRABBLE games.
Also, there will be an expanded raffle with top prizes.
"We want people to have fun, and they will," said Literacy board President Jim Poole. "But we also want everyone to have a chance to win something."
Brian Dineen will return as emcee. He'll explain the games, deliver trivia questions and keep the mood light.
Justine's will provide a free continental breakfast.
Players must be at least 16 years old. In past years, some teams have mixed teens and adults, and teams of co-workers and friends have challenged one another.
To register as a team for the March 22 tournament or for more information, contact Ms. Cardilli at 234-2576 or lvascho@verizon.net.

• • •
Literacy Volunteers has trained volunteer tutors who teach adults one-on-one in basic literacy skills. Many students are preparing for their high school equivalency diplomas.
"Our students are striving to improve themselves--get a better job and improve their self-esteem," Ms. Cardilli said.
Although the service is free to students, Literacy Volunteers has expenses. Costs include an office in each of the three counties, a small staff and materials for tutors and students.