75 respond to Sharon blaze at former Hollywood
| | |
| --- | --- |
| 1/21/2014 | By Patsy Nicosia |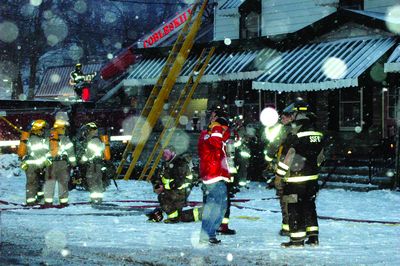 Efforts to repair a leaky roof are being blamed for a Saturday fire at Sharon Springs' Black Pearl restaurant.
As many as 75 firefighters from a half-dozen departments were called in to fight the 4pm fire and if it hadn't have been for their quick response, there's little question the former Perillo's, Hollywood, and Hollywood Two-and probably the Stewart's Shop next door-would have burned to the ground, said Sharon Springs Fire Chief Greg Baxter.
"If it had been 2am...if would all be gone," Chief Baxter said. "The guys did a great job. They all really stepped up."
Chief Baxter said the fire was started by a couple of workers attempting to repair a leak in the roof at the rear of the building using hot tar and a torch.
They left without realizing a window sill was on fire, he said.
Cherry Valley's fire chief was next door at Stewart's when he saw the smoke and called it in; within minutes, flames were shooting through the roof of the 1929 building, onlookers said.
"What a shame," said Sharon Springs Mayor Doug Plummer as he watched firefighters from Sharon, Cobleskill, Ames, Carlisle, and Cherry Valley fight the blaze.
"It's been here so long."
The Black Pearl, the latest in a string of restaurants in the building, closed last year. Liz and Dan Barr, who were renting the space, have opened another Black Pearl in Richmondville.
The building was recently sold to someone from Massachusetts, Mayor Plummer said, and extensive renovations were planned to the once popular night spot.
Chief Baxter said most of the fire damage was confined to the building's attic, though there was some structural damage to the roof and extensive water and smoke damage to the first and second floors.
Route 20 was closed off while the volunteers worked the fire with traffic diverted through the school parking lot and along side streets.
Chief Baxter was in Canajoharie when the fire was called in and credited firemen Lester Higgins and Tom Jozifek for their quick action in getting equipment to the scene and in calling in mutual aid.
"I had six to eight guys working the interior out of maybe 10 to 12 altogether," he said. "We're all in the same boat anymore; we just don't have that many guys. Thank God for mutual aid."