Gov's staff take budget message on road
| | |
| --- | --- |
| 1/28/2014 | By Patsy Nicosia |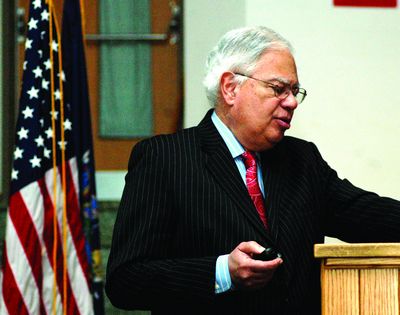 Staff for Governor Andrew Cuomo took his 2014-15 budget on the road last week with Secretary of State Cesar Perales delivering the message in Schoharie County at SUNY Cobleskill.
About 30 people-most of them from the college-attended the half-hour long presentation, characterized by Mr. Perales as "the Governor's vision for New York."
Cabinet members were fanning out across the state to explain the $84 billion budget, Mr. Perales said, in an effort to get the budget passed again on time-a change from the days when New York State was infamous for missing the April 1 deadline.
"We want this approved one way or another by April 1," Mr. Perales said. "Municipalities need to know what they're going to be getting in state aid."
The Governor's vision begins with tax relief, Mr. Perales said.
The Executive Budget freezes property taxes for two years with two conditions.
The first year, the state will provide tax rebates to homeowners in municipalities that stay within a two percent property tax cap.
For the tax freeze to remain in place the second year, the municipalities-including schools-must not only remain within the tax cap, but develop a plan for sharing or consolidating services that generates saving equal to three percent of the tax levy within five years.
Mr. Perales said the Governor's budget also focuses on economic development and creating jobs with investments across the state-including investments in education.
The Governor plans to create a panel of experts and legislators to come up with a better way to implement the Common Core, he said, to do away with the uncertainty and anxiety it's now generating.
He said the Governor also wants to eliminate standardized testing for K-second grades.
"The Governor doesn't think five-year-olds, six-year-olds should be taking standardized tests," Mr. Perales said.
The Governor is also calling for full-day kindergarten and more after-school programs and will ask voters to pass a $2 billion Smart Schools bond act to upgrade school high-speed technology.
Mr. Perales also touched on the Governor's plans to increase Medicaid funding within the spending cap, and for continued funding for the New York Health Benefit Exchange.
The Governor believes the state needs to be better prepared when it comes to emergencies, Mr. Perales said, and is proposing a state-of-the-art Weather Detection System, creating a SUNY of Emergency Preparedness, Homeland Security, and Cybersecurity-probably at an existing SUNY school-helping gas stations fund back-up power generators.
In a written release, State Senator Jim Seward applauded the Governor's budget message.
"We are working within a budget surplus, thanks to the fiscal responsibility exhibited over the last three years and we must continue to budget in that vein," Senator Seward said.
"In fact, I believe we need to enact a permanent spending cap to ensure that the budget restraint continues long-term."