C-R freshman gets one of three state FFA grants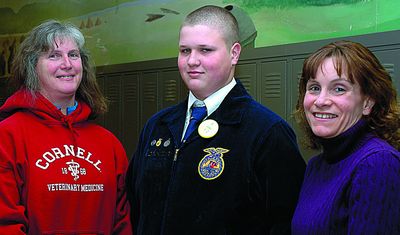 Only 15 years old, Gene Broadwell is going into the apple cider business.
The Cobleskill-Richmondville freshman is one of only three students statewide to receive a Future Farmers of America grant for his cider project.
The son of Randy and Mary Lou Broadwell of Carlisle, Gene started making cider last year using a borrowed grinder and an antique cider press.
Gene made 18 gallons of cider last fall--"cranking by hand," he said--and decided to apply for a Supervised Agricultural Experience grant from FFA that would fund more equipment.
C-R ag teacher and FFA advisor Deb Fletcher helped Gene with the grant and wrote a recommendation for him.
"Gene has quickly shown his leadership and initiative with the FFA," she wrote. "I have no doubt that Gene has the focus, drive, support and skills to expand his SAE well into the future."
The results were a $1,000 grant that Gene will use to buy a motorized press with a grinder. He also wants to buy a refrigerated cooler.
"It will cost a little more than $1,000, but my mom and dad will help because I help out on the farm," Gene said.
The Broadwells have about 90 apple trees that Mrs. Broadwell and her children planted as "a hobby that got out of hand" on their farm, DVM & Husband, aka Broadwell Dairy.
Gene was the most interested in the trees, she added, and helps maintain the orchard of Macoun, Ida Red, Northern Spy, Empire, Freedom, MacIntosh, Braeburn and Golden Mac varieties.
Mixing different types of apples makes better cider, Gene said.
With the new equipment ready this fall, Gene is looking forward to stepping up production.
"I made 18 gallons last year, and I hope to make more," he said. "I like the work and turning out a product, and I'll like making a little more of a profit."
Ms. Fletcher is optimistic, too.
"It's great to see the entrepreneurial spirit," she said. "I imagine he will be able to really increase his production with the new equipment.
"I can really see him getting more state and possibly national recognition as his project grows over the years."
Gene is active in other FFA activities. He taught several ag fair stations in the fall, helped with the homecoming cider sale, collected and packed boxes for the troops and will compete in the Ag Mechanics class at the state FFA convention.