Howe Caverns exploring casino
| | |
| --- | --- |
| 3/18/2014 | By Patsy Nicosia and Jim Poole |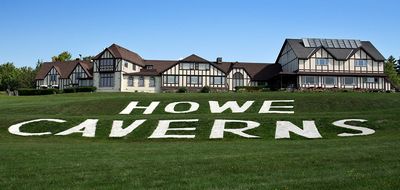 Howe Caverns is betting it's the perfect spot for a casino.
Emil Galasso, president of Howe Caverns Development LLC, and with Charles Wright of Schoharie, owner of the Caverns since 2007, said Friday they've begun looking for a developer to build and run a casino somewhere on the shovel-ready 330-acre estate.
Chris Tague, a spokesman for the project, said they began looking at it a few weeks ago after the Saratoga Springs City Council and its Downtown Business Association both came out against talk of expanded casino gambling there.
"Everyone assumed Saratoga was a done deal," Mr. Tague said Monday.
"To be honest? One of the people on our team sat up in the middle of the night and said, 'Why not us?'"
Under a referendum passed by New York State voters in November, Zone 2, Region 2, which includes Albany, Fulton, Montgomery, Rensselaer, Saratoga, Schenectady, Schoharie, and Washington Counties, has been approved for up to two casinos.
It will be up to a five-member New York Gaming Facility Location Board to review bids and select the winners.
While one of Saratoga's concerns is that a casino would hurt downtown businesses, Mr. Tague said Howe Caverns believes a casino there would help local businesses, many of which are still recovering from the impacts of Hurricane Irene, and create well-paying jobs in a region where unemployment numbers are some of the highest in Upstate New York.
"We don't want to be anything but Howe Caverns," he said, "but right now, it's hard to keep people in Schoharie County overnight. Something like this would really open up the opportunities for everyone"-especially since with the expansion of water and sewer services from the Village of Cobleskill to Howe Caverns, the Route 7 corridor is expected to grow.
Mr. Tague said they've reached out to three or four developers for proposals; if they ultimately go ahead with the project it will have to fit in with Howe Caverns.
"We're a family place," he said. "That's will always be the most important thing to us."
Schoharie County supervisors voted against the idea of a local casino in February, but in light of the Caverns' plans, they're expected to review the idea again when they meet Friday.
Assemblyman Pete Lopez, along with State Senator Jim Seward and representatives from Congressman Chris Gibson's office, was among those meeting with Howe Caverns officials Friday.
Though he stopped short of supporting Howe Caverns' plans, Assemblyman Lopez said they made a compelling argument.
"If there's going to be a casino in Schoharie County, that's the place," he said, agreeing that a casino would create jobs and expand the tax base.
"But I don't know if I agree with gambling as economic development. We don't know what the cost would be, socially or otherwise."
Assemblyman Lopez said he knows of one "serious" potential competitor from Albany County and one or two in Montgomery County.
But the cost of getting a casino off the ground-no matter who's behind it-will be high, he said.
"Howe Caverns must partner with someone with deep pockets, because it costs $1 million just to apply."