Constitution pipe arriving; FERC hearing 3/31
| | |
| --- | --- |
| 3/18/2014 | By Patsy Nicosia |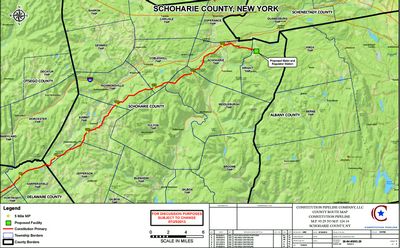 Pipe for the as-yet, still only proposed Constitution Pipeline has begun arriving in Albany-something both Constitution and opponents dismiss as business as usual.
Meanwhile, the Center for Sustainable Rural Communities will hold a workshop Saturday, 10am-2pm, at their offices in Richmondville, to help people develop and submit comments to the Federal Energy Regulatory Commission in this, the final part of the review process.
And, FERC will hold the first in a series of final hearings on Constitution's Draft Environmental Impact Statement for the proposed 125-mile pipeline Monday, March 31, 7pm, at the Cobleskill-Richmondville High School.
According to Constitution's Chris Stockton, the first sections of pipe to be used for the construction of the pipeline began arriving in Albany County a few weeks ago and are being stored at a rail yard there.
So far, he said, about three miles of pipe have arrived, about 500 40-foot sections, each weighing more than three tons.
In total, the Albany County pipe yard will store more than 17,000 sections of steel pipe over about 25 acres.
The pipe is being manufactured at mills in Pennsylvania and Florida and all 125 miles should arrive by this summer.
Mr. Stockton said Constitution has taken a calculated risk in ordering the pipe before the project is approved, but it's a necessary one in order to get the project built on time and on schedule.
"There's a huge demand for this type of steel pipe and only a few mills that can produce it, so the orders have to be placed many months or even years in advance," he explained.
"If the Constitution Pipeline isn't authorized by FERC, we can store the pipe and it could be used for other similar pipeline projects across the country."
Bob Nied of the Center for Sustainable Rural Communities, also characterized the pipe's arrival as a calculated risk.
"Much of what a pipeline company does is speculative," he said. "Most of the time, they're approved-they expect to be approved. They're used to getting their way. If they're not, they'll just put it back on the market."
Saturday's workshop, which will be held at the Center for Sustainable Rural Communities' office on Main Street, Richmondville, will be an opportunity for people to get a hand filing comments with FERC before the April 7 deadline.
The comments need to relate to the February DEIS, which reviews how Constitution will mitigate the proposed project's environmental impacts, but Mr. Nied pointed out that just about every concern-water quality, traffic, safety, noise-has an environmental component.
"It's a complicated process and it's helpful if you have help," he said. "Even if you want to support the project, we'll help you.
"Who should be there? Everybody and anybody, but we're especially hoping local officials and businesses will attend."
There will be refreshments and reservations are requested at 1 (800) 795-1467 or rnied@ruralcommmunities.org.
The FERC hearing on the 31st is expected to follow the format of the previous FERC hearings.
FERC ruled in February that the proposed pipeline would have "less than significant" environmental impact if promised mitigation steps were taken.
A final Environmental Impact Statement is expected June 13 and final approval could come September 11.