SSCS shows off its iPads
| | |
| --- | --- |
| 3/26/2014 | By Patsy Nicosia |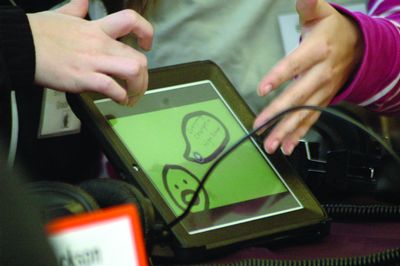 Teachers, administrators, and tech specialists from as far away as Lake Placid and Liberty spent the day in Sharon Springs Wednesday, getting a hands-on look at the school's 1:1 Apple iPad program.
After networking in the atrium, where students in grades 7-12 showed off iPad-related projects and answered questions, the 35-40 visitors heard Superintendent Pat Green and Business Administrator give a quick overview of the past two years.
Then they had a chance to sit in on classrooms to see how the iPads are used and talk with the teachers and students using them.
Erin Sheevers is the director of technology for the Coxsackie-Athens Central School District, which also has a 1:1 iPad program.
Ms. Sheevers said she's always looking for new ways to use the tablets and for new applications.
But that's not the only reason she was in Sharon.
"We still have some resistance--from both teachers and students--to the technology," she told UHS Business Law teacher Barb Handy.
"Is that something you struggle with too?"
Not really, Ms. Handy said, in part because the district's so small and no one wants to be the "dinosaur."
"They're 'cool,'" she added with a laugh, "and everyone wants to be 'the cool kid', teachers included."
SSCS is in the second year of the 1:1 iPad program, which also includes free at-home WiFi.
Funding has come from an increase in BOCES state aid reimbursement and grants-including a $50,000 Verizon Technology grant for technology--and in 2013, the district was named a Distinquished Apple Program for its use of the tablets.
Students in grades 6-12 are provided with their own iPads for the school year and younger students can use them in classroom computer labs.
Mr. Green told the visitors that like most schools, before the iPads, SSCS students had limited access to limited computers and less than half of them had internet service at home.
"For us, it was a matter of equity," he said.
Both SSCS students and teachers have been asked to go "above and beyond" in learning how to use the new technology, he said, and though the road's been rocky at times, Ms. Handy said co-workers and the administration have made it easier.
"We don't have a lot of money here, so we all have to work together to figure things out," she said. "When we ask for help, we get it. Most teachers have embraced it."
Ms. Handy pointed out that the iPads give students the ability to work at home, in the library, in the halls, and when they're waiting for sports practice.
English teacher Tom Yorke authored much of the Apple application and has led the way in promoting and finding new ways to use the technology.
Even for someone like himself, he said, the iPads require a different way of thinking as well as a different way of teaching, and he's learned that sometimes he has to let the students take the lead.
As an example, he pointed to the moans and grumbling he got when he told students they'd be reading Ray Bradbury's "Farenheit 451."
"I told them if they could come up with something else, I'd work with them," he said.
So, by using their iPads, students worked together on their own during their February break to expand the storyline in the teen dystopia novel "Divergent"-and he had no trouble incorporating it into the lesson.
"I told them the author of "Divergent"? She most definitely read "Farenheit 451."
Other classroom uses of the tablets have included mounting them on microscopes to track the movement of microorganisms, Mr. Green said, and on Friday, a Staff Development Day, a group of junior boys planned to record themselves cooking a Mexican meal, speaking only Spanish, for teacher Danielle Connors' class.
"It's amazing where we've come in two short years," Mr. DiPace said. "The other day I asked some teachers, 'What if we had to go back?' And we all just gasped."