Wright woman gets help with happy delivery
| | |
| --- | --- |
| 8/27/2014 | By David Avitabile |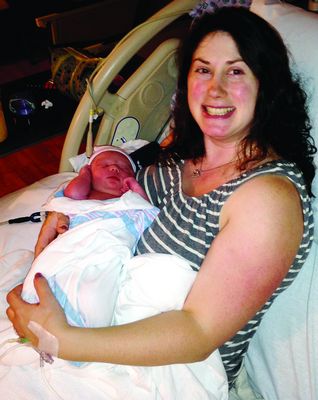 Thanks to the quick thinking and actions of emergency personnel early Wednesday morning, a pregnant woman delivered a healthy baby girl at her home in the Town of Wright.
At 12:16am on the early morning of August 20, the Schoharie County 911 communication center received a call from Rudy de Vries, of the Town of Wright saying that his wife Amber was in labor, but he believed there was time to get to the hospital, according to the Schoharie Sheriff's office.
The 911 dispatcher, Becky Brisley, talked to the father in an attempt to calm him and also gave instructions as to what he should do for the expectance mother, police added.
The Gallupville Fire Department First Responders including EMT/Fire Chief Mike Boomhower and EMT/EMS Captain Lisa Boomhower, Sheriff's Deputy Jeff McCoy, Scho-Wright Ambulance driver Bernie Myszkiewicz and EMTs Matt Smith and Ivan Irizarry, along with paramedics Schoharie County Deputy EMS coordinator and paramedic Ed Brandt, and Albany County paramedic Vangie VanAuke were dispatched and responded to the home on Route 443, according to police.
"I don't know what we would have done if we were alone," Ms. De Vries said Monday.
"They were awesome. They were calm so it helped me stay calm."
Upon arrival, EMS personnel determined that there was not enough time to transport the patient to the hospital prior to the birth and the baby would be born at home, police added.
The baby girl, Ava, was delivered at home at 12:51am. Both mother and baby, who checked in at eight pounds, two ounces and 19-inches long, were transported to Bellevue Hospital in Niskayuna by Scho-Wright Ambulance and both are doing well.
"We're so grateful," Ms. De Vries added. "We were so afraid she wouldn't be OK...
"We're super grateful."
Ava was due on August 25, but the first contraction came at about 11:30pm when Ms. De Vries was putting away dishes.
While their other daughter remained asleep, the de Vries thought they had enough time to pack their van and get to the hospital, but it did not turn out that way.
"It was just so fast," Ms. De Vries explained. "I can't believe it happened like that."