Big problems at tiny Cobleskill intersection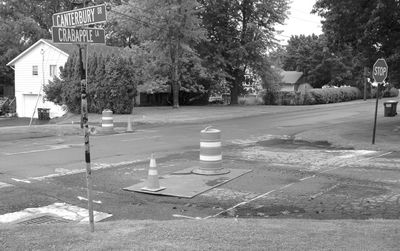 One of Cobleskill's smallest intersections could cost the village big money.
The intersection of Canterbury Drive and Crabapple Lane has severe storm drain problems, according to Trustee Guy Burt, who outlined those issues to the village board last Tuesday.
The problem surfaced when pavement on Canterbury sank recently. The Highway Department investigated and found that there was a manhole that had been paved over, and then collapsed.
"Nobody knew it was there. It was paved over years ago," Mr. Burt said.
Despite a few warning construction cones, the intersection looks innocent enough, except. . .
"It's what you can't see that's scary," Mr. Burt said.
There are three catch basins at the intersection, and two of the three are collapsing, Mr. Burt said.
Although replacing the storm sewers and catch basins doesn't sound too daunting, there are complications.
One storm line is under a sanitary sewer line, a water main runs nearby, and a natural gas line runs alongside one of the storm sewer lines.
Also, the intersection is the only access for the many homes on Canterbury and Hillside Avenue, behind the Best Western.
Finally, Mr. Burt said, the work is probably beyond the scope of what the Highway Department can do.
"You'll need a special excavator, trenching and a bigger crew to do this," he said.
Village officials are looking into whether the repairs qualify for CHIPS money, state funding for road work.
Mr. Burt hopes so but believes the work doesn't meet CHIPS requirements.
He didn't want to estimate how much it will cost but said the total would probably be less than $100,000.
And, Mr. Burt added, the village should make the repairs before winter hits.
"We might as well do the whole thing instead of replacing one line and catch basin," he said. "We don't want to have to do it again."