Worcester working to revive Main Street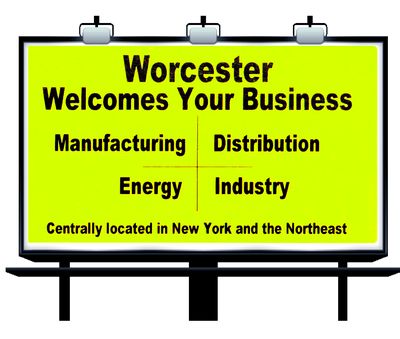 Worcester is in the opening stages of trying to revive its Main Street commercial area.
Stressed businesses there have formed a merchants' group aimed at drawing customers and, possibly, new employment.
"People are struggling here," said Dennis Dedek, owner of The Center and a spokesman for the Worcester Business Owners Group.
"Main Street is struggling Worcester needs employment."
Mr. Dedek and others trace Worcester's troubles to the 1994 fire that destroyed the Wheeler Block on Main Street. A gazebo and small park replaced the buildings, but the commercial space is gone.
More recently, the Worcester Market closed, triggering concerns that its closure would bring even fewer shoppers downtown.
The Worcester Town Board began organizing meetings shortly before the market closed, and now the Business Owners Group is working on ideas.
One of those is to erect a billboard on I-88 to draw an employer to Worcester. With the message "Worcester Welcomes Your Business," a sample billboard lists manufacturing, energy, distribution and industry as possibilities.
Worcester, Mr. Dedek said, "can offer excellent transportation, a central location in the state and Northeast, a readily available workforce and a receptive town board and business organization."
Mr. Dedek said many Worcester residents work in Cobleskill or Oneonta and do their shopping in those towns, so Worcester businesses lose out.
The Business Owners Group pitched the billboard plan to the town board in late September, with the idea that the town would pay for the billboard.
Town board members haven't acted yet and may consider the plan again at their meeting this Monday.
However, it's unclear whether the town could afford a billboard and whether the state Department of Transportation would allow one, said Worcester Supervisor Diane Addesso.
"And even if we went ahead, this would take a long time," Ms. Addesso said. "These businesses need help now."
For its part, the town joined the Otsego County Chamber of Commerce. Chamber speakers could visit Worcester to offer ideas and suggestions, and local businesses as a group could advertise in Chamber publications, Ms. Addesso said.
"If we can help, we will," she added. "The town needs to be involved."
Several members of the Business Owners Group believe others should also be involved. The fledgling group now has business members only, but Liz Zurawski of the NAPA Auto Parts Center said more should be on board.
"We need to bring in more people to help downtown--churches, the school Boy Scouts, Girls Scouts, the town board," Ms. Zuwarski said.
Nina Pleuss of the Quilt Zoo agreed, adding that "we have to broaden our base."
Ms. Pleuss pointed to several outreach successes, such as Mr. Dedek's Hometown Advantage monthly shopper, which heavily promotes local businesses.
Also, downtown merchants host Halloween trick-or-treating and a Christmas get together, Ms. Pleuss said.
But as for drawing more people downtown, Ms. Pleuss said, "I'm at a loss how to do that."
"We're trying to same Main Street and get people shopping at local businesses instead of going to Oneonta or Cobleskill."