Schoharie county tax levy up 5.7 percent, but still under tax cap
| | |
| --- | --- |
| 10/14/2014 | By Patsy Nicosia |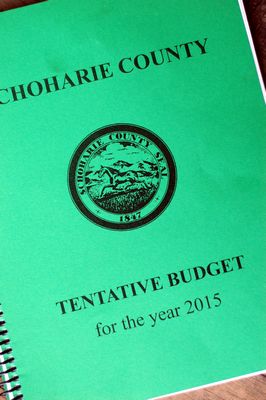 Schoharie County's 2015 tax levy will be up 5.7 percent--$1.1 million-under the $85.7 million tentative budget released by Treasurer Bill Cherry yesterday.
That shakes out to a 4.86 percent increase in the average tax rate, up from $8.43 per $1,000 of assessed value to $8.84 per $1,000.
Even with the increase, Mr. Cherry said the budget remains below the state tax cap, loosely characterized as a two percent cap.
Mr. Cherry explained that the state formula allows for some growth in the tax base-in this case a $250 million increase in the assessed value of the renovated Gilboa Dam.
It also allows counties to "carry over" unused tax increases from previous years.
Because the county remains below the tax cap, Mr. Cherry said, all STAR-eligible homeowners will receive a rebate from the state in the fall of 2015, "effectively offsetting any tax increase."
Mr. Cherry attributed the increase in property taxes to two things:
An unexplained decrease in sales tax revenues, down from about $15 million in both 2011 and '12, to about $14.6 million in '13 and '14, and the cost of state mandates.
"In the 20 years I've been doing this, this is the most difficult budget I've ever put together," he said. "We're between a rock and a hard place."
Under the tentative budget, which now goes to the Finance Committee, 13 of the county's 16 towns will see a tax rate increase and three will see a decrease.
The tax rates changes range from a drop of 16.77 percent in the Towns of Esperance and Schoharie, to an increase of 10.80 percent in the Town of Cobleskill.
The budget includes $300,000 to fund the first year of debt service for a $2-$3 million gap in stream bank stabilization funding, and $345,000 to help turn the former MOSA into an Emergency Communications and E-911 Dispatching Center.
It includes a two percent salary increase for employees, eliminates a handful of vacant positions and reorganizes others.
The most notable of those is in Planning and Development, where Mr. Cherry and Director of Planning and Economic Development Director Alicia Terry are often at odds.
Mr. Cherry's budget suggests pulling Economic Development out of the Planning Department and replacing Marketing Specialist Sarah Blood with one fulltime and one part-time position at about the same cost.
He also recommends eliminating Ms. Terry's position, replacing the $76,470 a year post with a $40,312 fulltime planner.