GRSI promises bright future here
| | |
| --- | --- |
| 10/21/2014 | By Jim Poole and David Avitabile |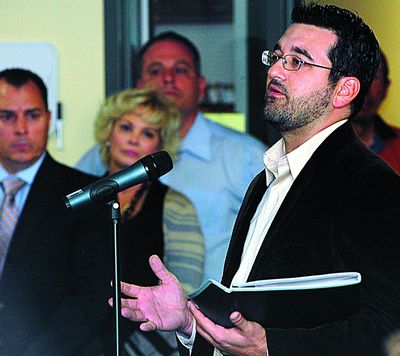 Visions of a bright future swept away recession gloom in Schoharie Friday morning.
Representatives of Green Recycling Solutions International, the company buying Guilford Mills, pledged jobs and revitalization when meeting with the Board of Supervisors for the first time.
GRSI reps have been negotiating with Treasurer Bill Cherry to buy the vacant county-owned plant. With the closing of the sale coming up, Friday's visit was a chance to put faces to names.
Early estimates put the number of jobs at more than 900 GRSI and its four sister companies will bring over the next five years.
Although no numbers were announced Friday, employment was the topic.
"This is a unique project that can revitalize the area and create jobs in Schoharie County," said Barbara Acuff, GRSI's chief financial officer.
Ms. Acuff was one of nearly a dozen visiting representatives, several of whom outlined their businesses.
Craig Shelton of Aeon spoke of his company's thrust to sharply improve farmland productivity with high-tech, geo-thermal greenhouses.
Bay Hajrulla described his company, Sakat Consulting, as providing jobs in information technology and negotiating student loans, mortgages and health-care payments.
"We want to produce longevity" to make sure jobs stay around, Mr. Hajrulla said. "There's going to be a great future in Schoharie County."
Similar comments came from Michael Cifferelli of USA Intimates Manufacturers, who added that he was excited about a partnership with SUNY Cobleskill, which would have interns working with the companies in Guilford.
"It's a great project, and in particular in this county," said Ms. Acuff. "It is great to make an impact on the community."
She also praised Mr. Cherry for his work on the pending sale. In turn, several supervisors thanked the visitors for what lies ahead.
Ms. Acuff said an engineer will be assessing what needs to be done to the Guilford buildings. This will be done as soon as possible, she added.
"We don't want to put this off for another minute," Ms. Acuff said. "We're in it for the long haul."