Artist-illustrator Jan Brett stops by Cobleskill
| | |
| --- | --- |
| 12/2/2014 | By Patsy Nicosia |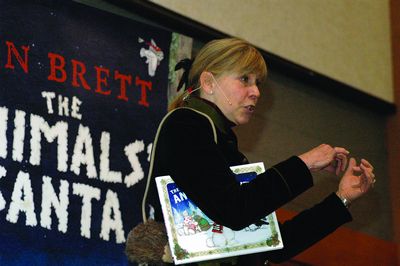 You know you're a rock star children's author when they line up by the hundreds for your autograph.
That was the case when Jan Brett, whose latest book is "The Animals' Santa," kicked off her cross-country book tour Friday at SUNY Cobleskill.
Children and their parents crowded outside the Ballroom, waiting for the doors to open; once there, they got a chance to hear firsthand what inspires Ms. Brett's work, watch her draw, and then lineup for autographs.
There were also plenty of children's activities, most of them featuring Ms. Brett's winter wonderland characters.
The best selling author has created 35 books over the last three decades and has 39 million of them in print.
More photos from the fun are in this week's Times-Journal.